By Lydia Hoverson
MINOT – Taxes may increase due to the Minot City Council's Monday decision to give preliminary approval to the City Manager's 2023 recommended budget. 
City Manager Harold Stewart said the good news is property owners can sell their property for more than last year, seeing that the 2021 assessed value was around $4.5 billion with the current being around $4.8 billion.
"Unfortunately, that calculates into what the market value of your home is, and your assessed value is tied directly to market value," said Stewart.
Stewart highlighted the fact that property taxes account for slightly more than 15% of the city's revenue. The breakdown of Minot's revenue source can be seen in the image below.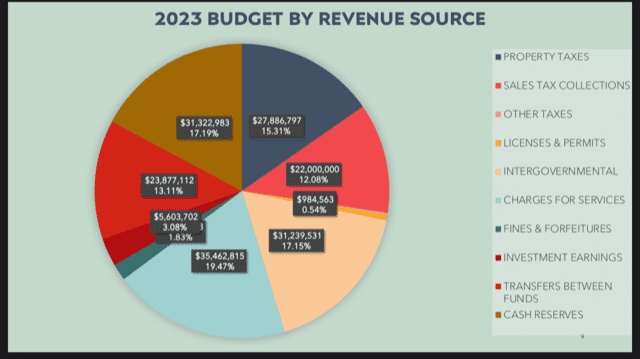 The 2023 general fund expenditure showed 47.85% of funds estimated for public safety, 28.66% for highways and streets, and 23.49% for general government.
The proposed budget would add 23 new positions to city staff which included more firefighters, police officers, engineers, an assistant city manager, operators for water plants, and both light and heavy equipment.
With health insurance premiums lower by 12% than the budget anticipated when it was first drafted, Alderman Roscoe Streyle recommended using those savings to help reduce the almost $1.75 million property tax increase.
The council will not be able to increase the budget but may consider cuts in the future.
"The whole process is set out so that we can discuss it," said Alderwoman Lisa Olson. "We've been given a lot of information and we need to digest it. The community needs to digest it. I think we're premature in making cuts now. We may get to that point, but that's why we have the process set in place, so that we can make the most informed decision that we can."
In the end, the recommended budget was unanimously approved with two aldermen absent. More details on it can be found here.
The city council also unanimously declined the Ward County Commission's offer to allow the Minot Municipal Court to occupy a place in the courthouse.
"In the end it's probably not the right location, and I think we just have to continue to look for other options," said Olson. "But I would be remiss if I didn't say that a lot of effort had been put into this and even though this is the decision, I know we'll be looking at it again in the future."
"My recommendation would be, we have a consultant come in and assess the space needs of the police department and the municipal court and assess City Hall about whether or not that will fit," said Stewart. "If so, how, and if not, what are some alternatives that we should explore with potentially some recommendations of other locations."