TWIN BUTTES — "I've been a sponge my whole life, getting help from other horseman, ropers, competitors, you name it" explained Halliday, North Dakota barrel racer, Lynn Schaper. Making her mark this year in the North Dakota Rodeo Association (NDRA) as one of the top all around cowgirls. She is also competing in the Mandan, Hidasta and Arikara (MHA) Rodeo Association and numerous barrel racing jackpots around the state. This grandmother is humbly taking the wins in stride aboard her buckskin mare, Mesa.
Lynn took home the open barrel racing win at Twin Buttes, North Dakota this past Friday, August 5. She also placed sixth in the open breakaway and third in the senior breakaway. Her grown children were competing as well with Ashley Schaper, Skye Harris and Logan Schaper all placing in their events as well.
"The ground for barrel racing was awesome at the Twin Buttes newly contrasted arena. The facility is unbelievable, and I've really been enjoying these MHA rodeos" said Schaper.
Riding since she could walk, the grandmother and rancher didn't come from a rodeo family. "I remember begging my parents to take me to a rodeo for years. One day in my school at Zap, I saw a flier for a showdeo that was being held in Halliday. I talked my parents into taking me" Schaper noted "I had to make myself ride a western saddle to compete. I only rode bareback at home."
The young cowgirl was hooked on rodeo. Her and her family eventually became members of the Hazen and Stanton saddle clubs where there were youth horse shows and some rodeos to attend. Rodeoing her sophomore, junior and senior high school years she competed in the breakaway, team roping and barrel racing events.
Ultimately Schaper took a hiatus from competing. Raising a family and helping her husband, Jim on the ranch, she still found the time to always ride young horses, haul her four children- Zanna, Ashley, Skye, and Logan- to their rodeos and events. Keeping to the grind and training horses for all of them was just one of her 'full-time' jobs on the side.
She ran heavy equipment for Coteau for about fourteen years. So, in semi-retirement she is rodeoing across the state leaving her tracks in the dust.
"I don't know how she does it. She puts everyone above herself. Working nights with very little sleep while we were growing up and making sure we all got taken care of," explained her daughter, Skye Harris. "She still does this all for her grandchildren. She is superwoman. The heart she puts into creating and making wonderful horses for us is something we cherish.
Schaper preaches, you practice how you compete. Practice in the arena and put in the hours and it will show when you compete. She told her children that you are responsible for how and what goes on. Sure, it doesn't always go well, but Schaper says it all comes full circle.
Schaper is riding a seven-year-old mare registered as 'Smokn Spark' also known as, Mesa. She bought her a couple years ago from Kay Dee Munns Olson. "All I did when I got Mesa was go straight to moving cows. We had a little learning curve and seasoning to get through. I went on a cattle drive with her, and my son was supposed to kind of stick with me. Well, we got separated and thirteen miles later of punching cattle, Mesa and I had found a trust for each other. Ever since, I've continued to ranch on her, haul her to jackpots and rodeos. Last year, she went through finding her footing, had some slips and even a fall. This year, she has been a dream" explained Schaper.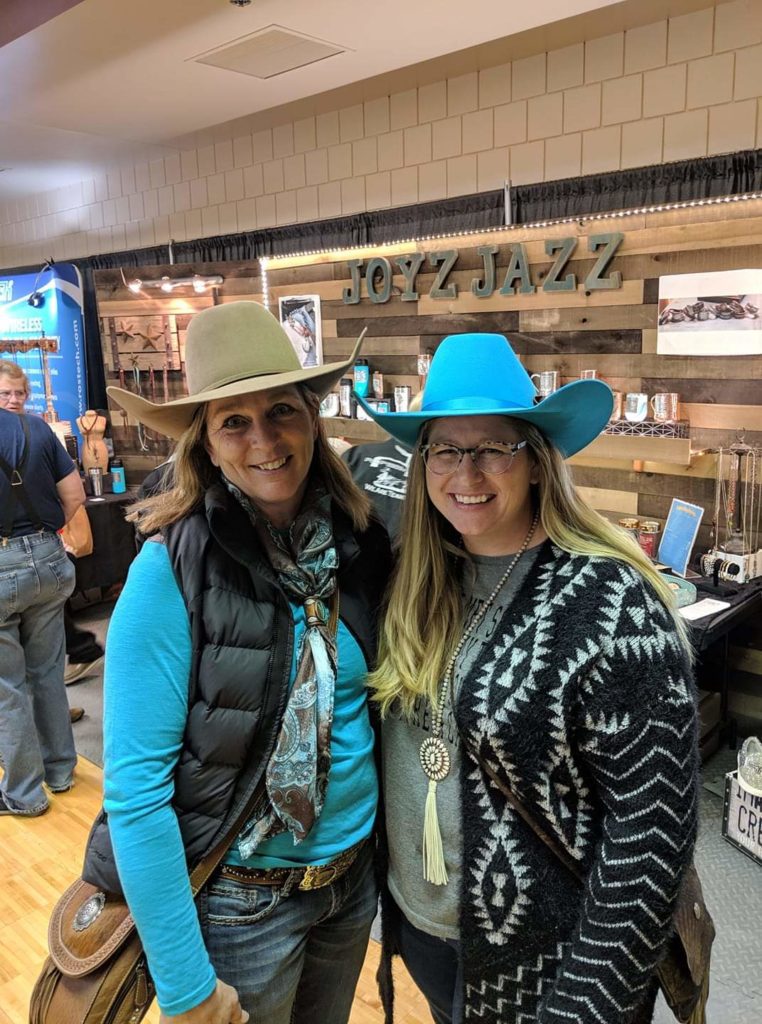 Brandi White, ND champion and veteran breakaway roper had this to say about her friend, "It's hard to find someone that works as hard at roping and barrel racing as Lynn. She made horses for her kids and now ol' grandma is hauling to rodeos for herself and having tons of success. It's hard to put into words how proud I am of her."
"Our mom taught us to always lend a helping hand. She will go out of her way to help people. She raised us to respect people, work hard and you get what you put into anything, in and out of the arena," added her daughter Skye Harris.
Schaper has five grandkids Tenley-11, Berkley- 9, Krew-4, Ryan-1 and Hitch-1. The Halliday cowgirl doesn't plan on slowing down anytime soon. "I'm as old as some speed limit signs," laughed the cowgirl with a sparkle in her eye.