MINOT — Minot State University's Diversity Council hosted a celebration of Juneteenth Monday afternoon with a speech and the raising of its flag.
Though the Emancipation Proclamation went into effect in January 1863, Juneteenth celebrates when the federal government took control of Galveston, Texas, to ensure the slaves' freedom, on June 19, 1865.
Minot Area Homeless Coalition executive director and civil rights member Louis (Mac) McLeod gave a speech on what Juneteenth means.
"A lot of us didn't know what Juneteenth was until later on in our lives," said McLeod. "It's important that we understand this is a part of American history. It signaled freedom for Texas' 250,000 enslaved people. Juneteenth is the oldest national celebrated commemoration of the ending of slavery in the United States, which was started by free men and free Texas slaves. It's considered the longest running African American holiday."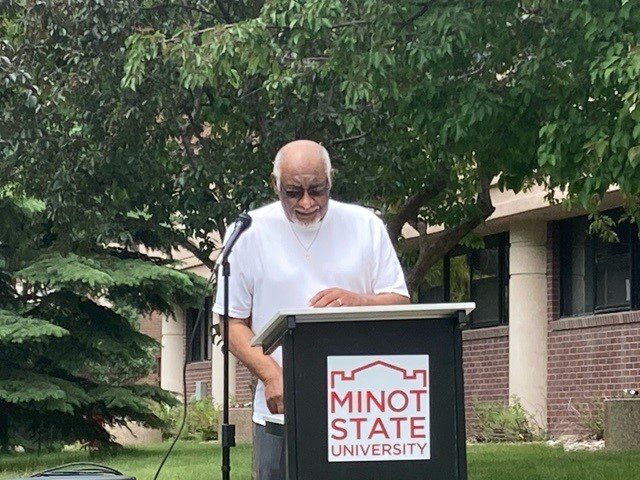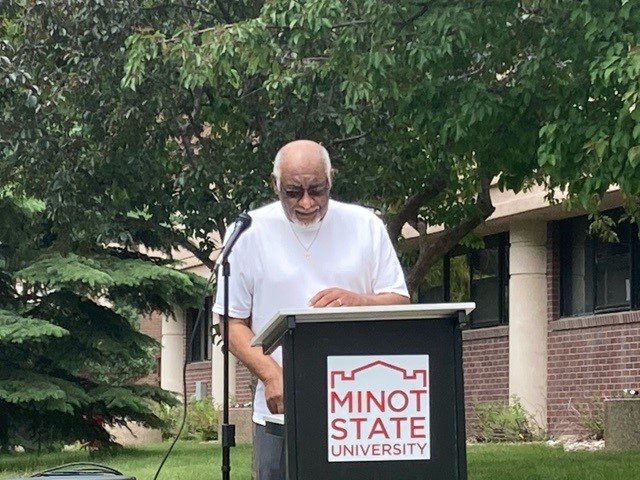 McLeod continued to explain how the holiday grew in the United States, starting with the state of Texas in 1989.
"Several other states followed soon afterward," McLeod explained. "Some have asked me, why did it take so long? I could ask today, why has it taken so long for all of us to be truly Americans? Why do we have all of the discontent that we have? If I had that answer, I wouldn't be standing here today. I do know this: Nothing happens without God having a plan. I stand here today because God allowed me to do so many things. When I look back on Juneteenth, it may have taken two and a half years before Galveston recognized that there were freed slaves, but their steps were ordered; they were not going to remain slaves."
McLeod said that the holiday became official largely due to the efforts of 94-year-old Opah Lee, a retired teacher referred to as "the grandmother of Juneteenth", advocating for the federalization of the holiday in Washington D.C.
"Civil rights for all continue to be a battle," said McLeod, after saying that much of the United States' history has been stored away.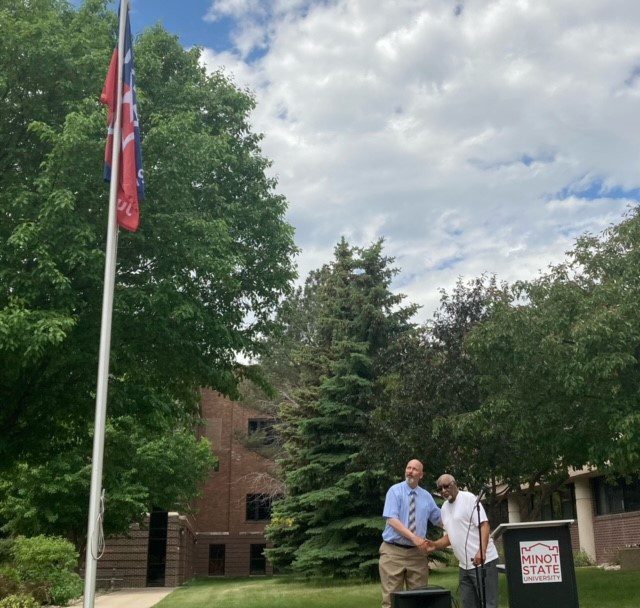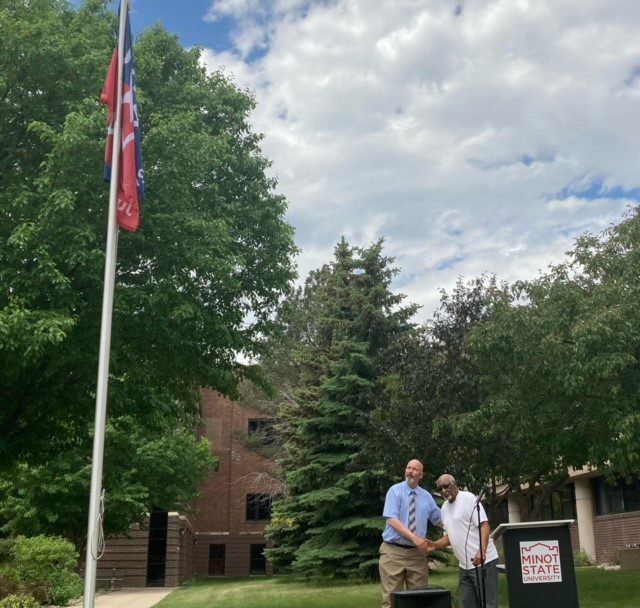 Democratic candidates for U.S. Senate Katrina Christiansen, Public Service Commission Trigve Hammer, and District 3 House of Representatives Joey Nesdahl also attended the event.
"I like Mac a lot," said Nesdahl, of Minot. "It's a very important holiday. I appreciate what he had to say, that a lot more people are learning more about it."
"His comment about a lot of our history being stored away was really visually and emotionally strong," said Christiansen, of Jamestown. "Because, given the current climate, there is this fraction of our society that kind of wants to stuff away the actual history of slavery. I think it's important that this holiday isn't just reflective, but that we're actively trying to restore justice for everyone."
"I know I never heard about [Juneteenth] until I was an adult," said Hammer, of Velva. "I was embarrassed for myself and for our educational system."