It's not every day an angler lands a 48-inch freshwater fish and has to release because it's too small.
Yes, you read that right – it's too small.
When it comes to catching a muskellunge (muskie) in North Dakota, though, that's exactly what happens – N.D. Game and Fish Department fishing regulations require anglers to release any muskie less than 48 inches in length.
There is a distinctly good reason for the regulation: "We're basically managing it as a trophy species," explained Game and Fish Department North-Central District Fisheries Supervisor Jason Lee.
Muskies aren't in all that many lakes in the state. While they're native to some northern regions, they're not native to North Dakota, unlike a similar species, northern pike, which is native to the Peace Garden State.
They – muskie – need larger water bodies and suitable habitat, continued Lee. "They don't tolerate real warm water temperatures and go to deeper, cooler water in late summer," he added.
Plus muskies prefer a variety of fish species for suitable forage.
Lake Audubon is one such lake fitting that criteria, especially when it comes to the forage aspect. Audubon has ciscoes, a fish that is great as a meal for walleye and other predator species when they're young and small.
However, when ciscoes are more than a couple of years old they're typically too big for a walleye to feed on.
But they're not too big for pike or muskies, whose large mouths and razor-sharp teeth can easily engulf even a larger cisco. In a way, muskie and pike help manage Audubon's cisco population.
The Game and Fish Department stocks mostly tiger muskie in Lake Audubon, a hybrid cross between a male northern pike and female muskie. As a hybrid, they don't reproduce as pure muskies would. That's one reason the Game and Fish Department stocks tiger muskies in appropriate lakes – it controls their population so muskie don't become a dominant species, population-wise.
Like fishing for trout or salmon in North Dakota, essentially muskies are a put-and-take fishing opportunity for anyone seeking a unique experience, Lee added.
Lake Audubon has been stocked with about 2,000 to 4,000 muskies annually in recent years. While walleye aren't stocked annually in Lake Audubon, the number of muskies stocked in Audubon in 2022 pales in comparison to the 300,000 walleye fingerlings fisheries biologists plan to stock in it this year.
Tiger muskies are also stocked in the "Chain of Lakes" – the interconnecting lakes on the McClusky Canal, including East Park, West Park, New Johns, and Heckers lakes. As a system they're all large enough to support muskie.     
While none of those lakes typically have ciscoes for forage, muskies also feed on species such as native white suckers and common carp (a non-native, invasive carp found in the system).
Fishing for muskies usually entails an outing anytime from spring ice-out through summer until they may go deep to beat the warm water. Then trying fishing for them again in the fall. It also usually entails heavy line and casting large artificial bait. "They'll hang out on the edge of the vegetation and then they'll wait for something to swim by (to eat)," Lee described.
That's what they usually do.
But as with many things, muskies can mix up their habits, even swimming near the water's surface on warm spring days.
Or they may decide to take the bait when casting lightweight line and a small presentation in search of smallmouth bass.
Just ask Lee what it's like to catch a muskie on a smallie presentation: "You talk about a battle," he described.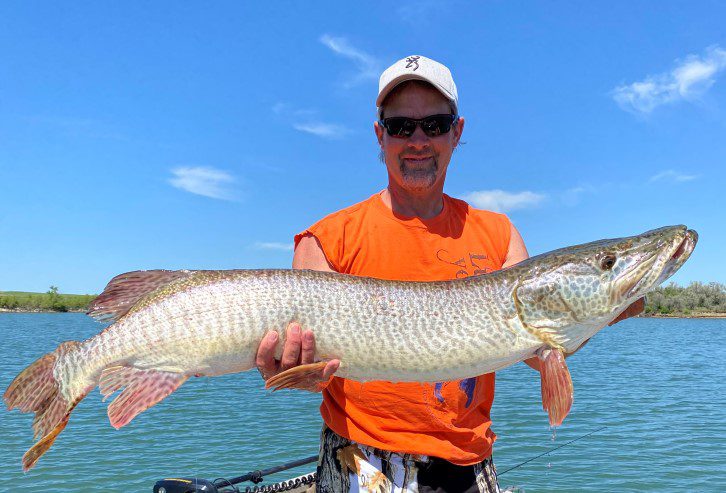 They don't like to give up easily and Lee's catch put up a fight. "And they'll jump out of the water, too." With the help of his daughter, they landed the muskie, which measured about 45 inches, took a quick photo, and released it back into the water. "It was a memorable experience."
Northern pike and muskie are members of the pike family, the only two pike species in North Dakota. The Game and Fish Department website, (gf.nd.gov/wildlife/id/fish) has descriptions to help anglers differentiate between the two, which is especially important given the muskie length minimum.
A notable difference is muskie have dark vertical bars on their sides compared to a pike's light horizontal spots.
Reprinted courtesy of The Northern Sentry.