Ice Fishing for a Cause
FOXHOLM – Neither blowing snow that caused white-out conditions, nor sub-zero temperatures and wicked windchills, could keep a dedicated group of hardy ice anglers from participating in the annual ice fishing derby held at Lake Darling.
Despite less-than-ideal conditions, nearly all the 50 registered 2-person teams were there, venturing onto the ice and drilling holes in the hopes of catching fish. The event was sponsored by the Souris River Basin Longbeards, an affiliate of the National Wild Turkey Federation.


"We're a conservation group. We try to raise money for conservation." Tim Llewellyn, Minot


"We're a conservation group. We try to raise money for conservation," said Tim Llewellyn, Minot. "We've donated a bunch of money to the refuge up here through the years with this fishing derby. It's also a way to get a bunch of guys together, have a good time, and enjoy the outdoors."
Llewellyn was one of the volunteers helping stage the event. This year's derby was the 15th annual.
"I'm weighing in fish, helped guys check in," said Llewellyn while standing next to a pickup offer some protection against a strong wind. "The guys on the ice said its white-out conditions. They all kind of went out in a group and, hopefully, they'll all stick together."
Weather conditions improved a bit during the day, making for better visibility and less drifting snow. Ice thickness was reported to be 12 to 18 inches, more than adequate to accommodate most vehicles and ice shelters.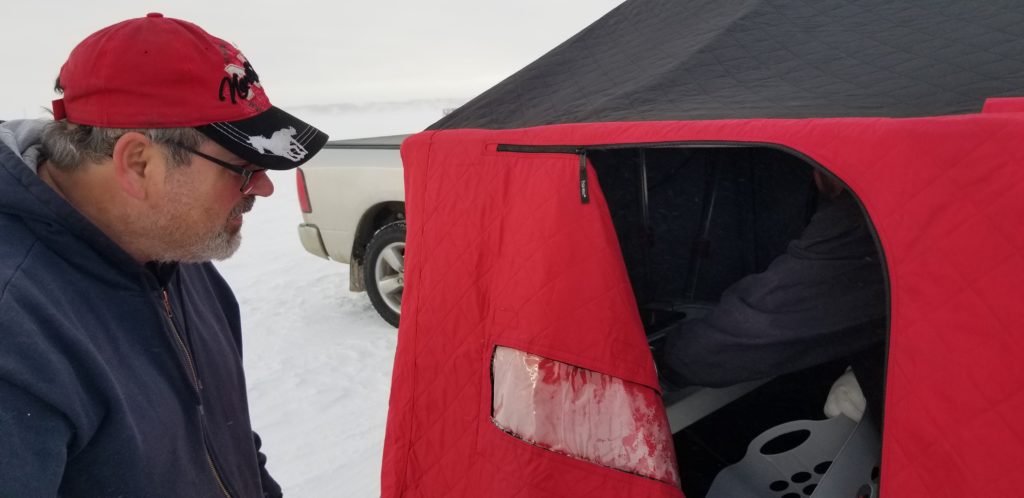 Tracy Rath, Minot, brought the first northern pike to the scale. He made the trip to do so despite snow drifts that were beginning to pack solid and limited visibility.
"It's cold and the wind is blowing," laughed Rath. "It's fun to be here. That pike showed up on the flasher, followed a jig and minnow, and took it."
It wasn't a big pike, about 4 pounds, but it was a good start to the day. And, added Rath, he caught the fish while sitting in 70-degree comfort in his Ice Castle.
"Ice fishing is pretty big in North Dakota," remarked Llewellyn. "You've got to do something up here in the winter. You can't just sit in the house."

Souris River Basin Longbeards
Ice Fishing Derby Winners:
Northern Pike division—Amber Pierce & Jost Trottier, Surrey, 13.29 lbs.
Walleye division—Aaron Stenvold & Levi Schmaltz, Minot, 4.12 lbs.
Perch division—Hunter Anderson & Kylee George, Minot, 2.56 lbs.
Largest northern:
6.89 lbs., Amber Pierce & Josh Trottier, Surrey.
Largest walleye:
2.80 lbs., Aaron Stenvold & Levi Schmaltz, Minot.
Largest perch:
1.05 lbs., Chad Vetch & Pat Cain, Minot.