MINOT—Dakota Square Mall has been bustling with activity in the past few weeks, as both businesses and shoppers make their last preparations before Christmas. 
Many businesses within the mall appear to be thriving, despite online shopping growing in its efficiency and popularity.
"We can bring in like 2600 [customers] on a Saturday," said Faith Howell, store manager of Co Calendars, a kiosk at the mall. "There [are] some people that shop online, but that's only because they don't find what they want in stores before they go online."
Other businesses, such as Paradise Spas, have had a lot more unpredictable business, according to its general manager James Baker. "Obviously during the oil boom, we boomed like a lot of other companies. It's a home leisure product that is usually not a necessity, it's more of a want, so when the economy is doing well, we do well. COVID affected it in a positive way, because people were staying home, so they wanted something to do at home." Baker said that the holiday season also brings in more customers for the business.
Some businesses have not had stiff competition with the online world, since they have online options themselves. "We do have an online store, so we have a little bit of the best of both worlds," said Rachel Shonka, an employee at Gliks.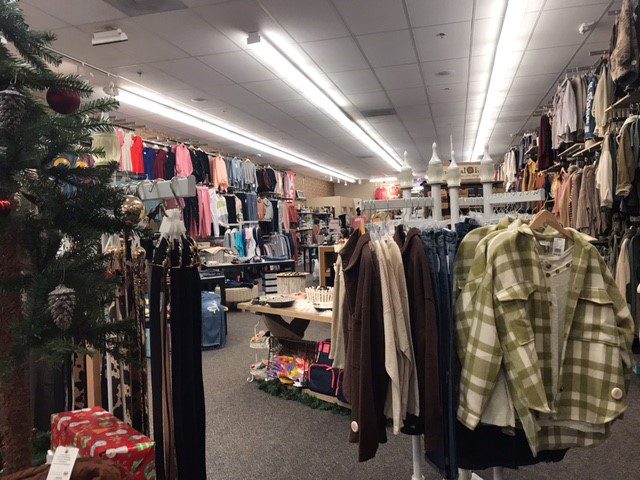 Many shoppers stated they prefer shopping in the mall over shopping online. Angelica Garcia said she bought approximately 50 gifts this year, but only had to order a couple from the internet.
"[I like shopping at the mall], 'cause I don't have to wait for it to get delivered," said shopper Lucas Peltier. Fellow shopper Brooke Crissler agreed. "It's a fun little road trip."
"I like seeing [the item] in person before I buy it," explained Jason Ragan.
Raquel Ragan said she prefers online shopping, "[Mall shopping] can be a little bit stressful. I don't do well with big crowds."
"The busiest day is always Black Friday," said Viwalkdj Bastian, Dakota Square Mall security guard. Bastian also explained that trouble with people at the mall has seemed to die down over the years. "They finally started listening to their conscience," he said.
"I love [working at the mall during Christmas time]. I get to see Santa every day, you get to see new people, some person comes here every single day since I've been working and calls me 'Smiley'," said Howell.
Dakota Square Mall's hours vary depending on the day and season, but more information can be found on its website or by calling (701) 839-7500.