Minot plays host to harpist Jaclyn Wappel
MINOT—The city of Minot has been quietly playing host to a new harpist for the past few months. Dr. Jaclyn Wappel, an experienced performer, instructor, and published scholar, will be performing downtown at Lien's Jewelry on Friday, Nov. 26, from 5:30 p.m. to 7:30 p.m. Her set will consist of mostly Christmas music arrangements to provide background ambience for customers looking around the store. "It's all low-key for shoppers that evening. It's not a black-tie, sit-down event," she stated.


"You never know who might sit down at the harp and discover they have just the right hands and aptitude for the instrument." Dr. Jaclyn Wappel, harpist


Dr. Wappel moved to Minot in late August with her husband Chris Mesnard, an Air Force officer currently stationed at Minot Air Force Base. She is looking forward to teaching harp as an adjunct professor at Minot State University this coming spring semester. She's currently planning a one-on-one introduction to the harp early in December for MSU students. Both music majors and non-music-major students are welcome to attend. "You never know who might sit down at the harp and discover they have just the right hands and aptitude for the instrument," said Dr. Wappel. "We need more [harpists] out there."
Dr. Wappel is also willing and able to take on private students. She was quick to dispel the idea that the harp is only for entitled or wealthy people. "I'm trying to break that stigma," Dr. Wappel said. She explained there are harp rental options out there for $150 per month, not much more expensive than many other instruments.
Age is also a non-factor in Dr. Wappel's opinion. "I work with all ages," she noted. "I have a student who's 75. I've had four-year-olds," she continued.


"I want to start up a fire and keep it going." Dr. Wappel


Moving around as much as she has, Dr. Wappel has developed an online studio as well as her in-person students. This makes it possible for her to continue working with students even after she has had to leave an area. "If I had a choice," she said, "I'd always be in person. Whenever you're teaching online, there's the whole element of tone. You can't see their posture. You can't see their feet, because we have pedals." But if online is the only way to keep a student going, she'll use that tool. "I want to start up a fire and keep it going," she clarified.
Dr. Wappel earned her Doctor of Arts degree from Ball State University in 2016. Before moving to Minot, she was Instructor of Harp at James Madison University and Washington Lee University. An avid traveler, she has performed throughout the U. S., Europe, Hong Kong, Peru, and India, and she still continues to perform in Virginia.
Because of her husband's Air Force career, Dr. Wappel may have to leave Minot in June 2022. But she wants to increase her presence in the community during that time. "I sat down with [Minot Symphony Orchestra (MSO) Conductor] Efrain [Amaya] to discuss how I could contribute." She also hopes to work with Dr. Erik Anderson, MSU Performing Arts Division Chair, to plan a recital for the spring.
Her connections in Minot have come mostly through word of mouth so far. "Living downtown, it's been so easy. I got to know Valerie [Stadheim, owner of Grow With Me], and then I got to know Sheri [Lien, co-owner of Lien's Jewelry], who plays with the MSO." Lien then invited Dr. Wappel to perform at Lien's Jewelry during their Black Friday event.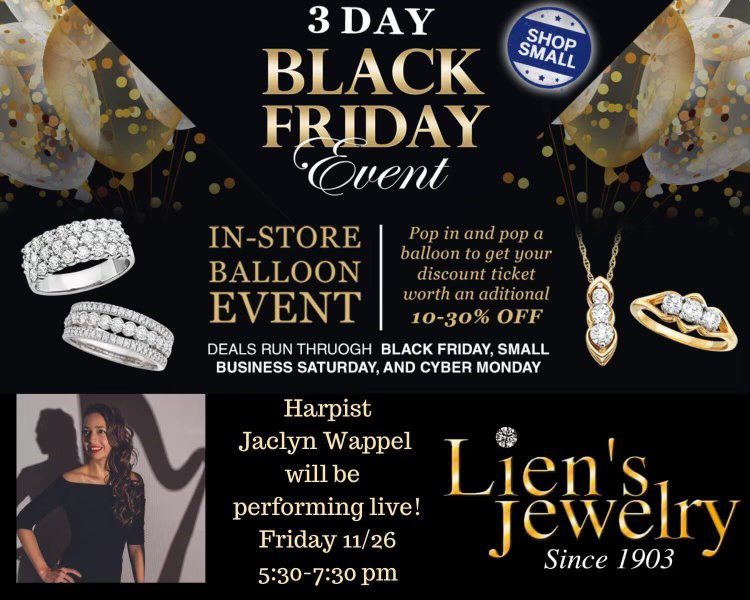 Dr. Wappel truly loves connecting people with the harp. One of the best ways she has discovered is by "putting my tiny little banana-yellow lap harp in my window downtown. It's for very little kids, to help them develop dexterity." Apparently, it's also a great attention getter.  
Interested students can contact Dr. Wappel at jaclyn.wappel@gmail.com.
Lien's Jewelry is located at 107 Main St. S. in Minot.
greg.demme@mydakotan.com