"If these grandstands could talk, 75 years of great competitors and exciting stock have performed at the annual Wing Rodeo. It takes an entire community to put on an event like this. Here we are in the heart of ag country, and it shows," said Melanie Hertz, 20-year Wing Horse Club member and Wing Rodeo Committee Member.
July 8-9, Wing Horse Club hosted the 75th Annual Wing Rodeo. The history and community involvement has played a part in North Dakota history and doesn't have any intentions of slowing down.
"Back in the day, Wing had an unorganized association with festivities including a horse racetrack that involved a standing human fence, horse shows and saddle horse races. They made an entire weekend of it," explained Hertz. "Horse mugging, scoop shovel races and more during the rodeo. As it evolved and time went on, the rodeo was co-sanctioned with the Northern Professional Rodeo Association and was the last stop before their finals which was at the ND state fair. In 2004, we sanctioned with the NDRA.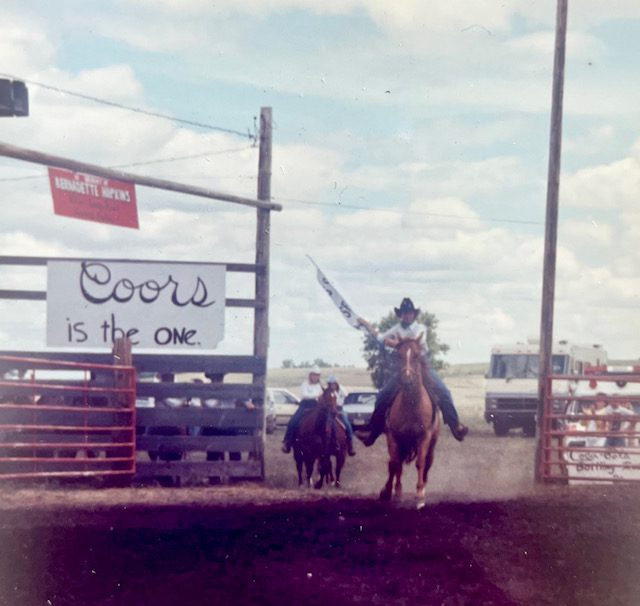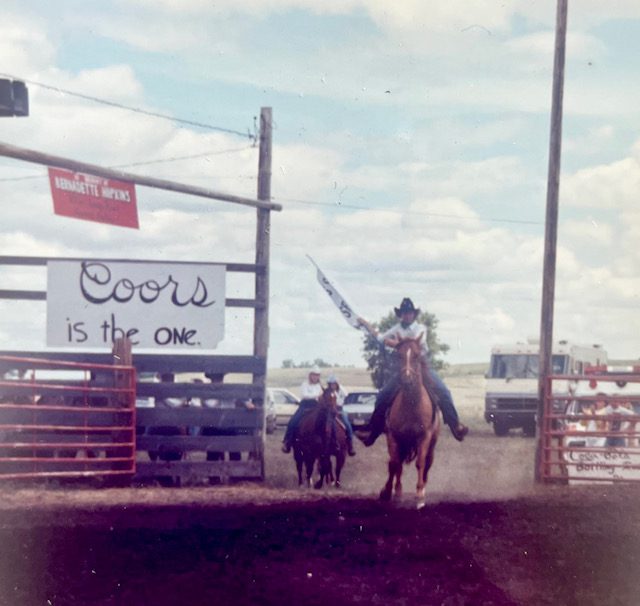 The Wing Horse Club currently has 180 active members and many volunteers that have helped for 20-30 years at the annual Wing Rodeo. Volunteers help produce the rodeo, serve concessions, get the grounds ready, and gather sponsorship dollars to host the rodeo. Contestants come from North and South Dakota, Montana, and Wyoming as they hit the NDRA trail.
Present day, aside from the rodeo, the Wing Rodeo club has organized Partners in Performance, donating extra traveling money for local youth at state, regional, and national levels. Scholarship funds are allotted to one or more applicants per year as well.
"We all have the tandem goal of keeping the sport of rodeo flourishing through local play days, barrel racings, and pole bending. Our rodeo club is very youth driven. We want everyone to have a place to start in this industry and opportunity to keep progressing," added Hertz.
Jeff Inglis of Wing Rodeo Committee said that one of the reasons Wing Rodeo is successful is the setting in the hills and the surroundings of the arena.
"This is the one rodeo, both fans and contestants don't want to miss. Everyone just seems to love this rodeo. Our committee works hard at making sure it is run efficiently and has added money to compete," said Inglis. "We always have mother nature to deal with and have changed to July from its previous June date, trying to avoid rain. During the rodeo, spectator involvement is great as well. We offer sheep riding for the youth, as well as the calf scramble, which the grandparents might enjoy more than anyone."
Major sponsors of the Wing Horse Club and the Wing Rodeo include Next Era Energy, Wilton Elevator, Cenex, and Pahlke Steel.
"In the future we are working on a new set of lights, center gate placements, arena ground integrity, and a sound system for the numerous events to come," Hertz added.
For a complete list of champions from the Wing Rodeo: visit ndrodeo.com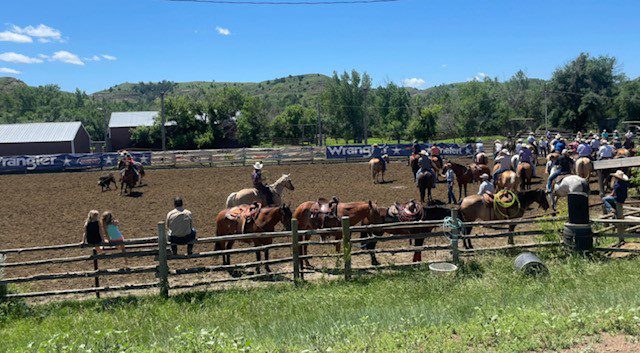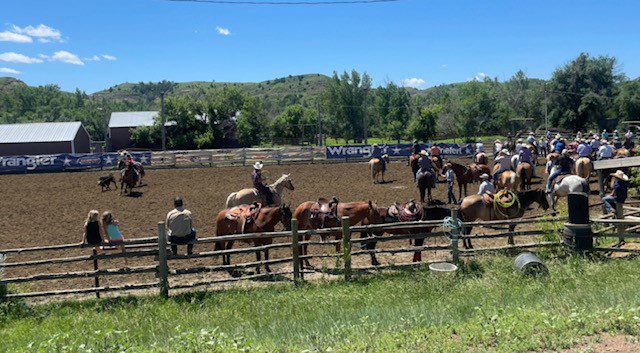 The ropes kept swinging through the weekend, amidst the majestic backdrop of the North Dakota Badlands. The Carson Ranch Arena, west of Grassy Butte, along with Wrangler Team Roping Championships hosted a Super Challenge Weekend of team roping. July 9-10 brought trucks and trailers to McKenzie County from five states.
Three separate numbered team roping's, like handicap matches in golf, hosted close to 300 teams. Rainstorms, heat, and humidity didn't stop the ropers from ages 11 to 70 and all professions in life to compete for a brand new 4-wheeler, trophy saddles, buckles, and prize money.
Sern Weishaar of Belle Fourche, S. Dak. was the high point winner of the weekend and drove out of the arena in a new 4-wheeler.
"I have been doing these team roping's for 17 years. It's a family, and everyone covers for everyone. Someone just had something happen with their horse and another roper came in to notify me, to roll them down the draw. Team roping's like these are community events and the ropers become family," explained Karyn Wenger of Granville, team roping secretary/announcer.
Ron Carson of Grassy Butte started producing team roping's in 1979. Eventually his brother, Monti, joined in on the creation of what has become a North Dakota staple in the roping industry. Each brother has sons and grandchildren that are carrying on the tradition, families by their side.
Check out result from the weekend@ Wrangler Team Roping Championships on Facebook.