FARGO — Senator John Hoeven today held a roundtable discussion with local agriculture producers and commodity groups to review the details for phase one of the Emergency Relief Program (ERP). The program is funded using the $9.25 billion in row crop disaster assistance that Hoeven secured in September. Hoeven was also joined by Farm Service Agency (FSA) North Dakota State Director Marcy Svenningsen and North Dakota Agriculture Commissioner Doug Goehring.
After getting the funding in place, Hoeven met repeatedly with U.S. Department of Agriculture (USDA) officials, including Secretary Tom Vilsack, Under Secretary Robert Bonnie and Farm Service Agency Administrator Zach Ducheneaux, and pressed them to quickly distribute the aid and in a way that works for producers.
"From last year's drought to rapidly rising costs and this year's wet weather, our farmers and ranchers are facing real challenges. That's why we've worked to get this assistance out to producers, helping them to recover from natural disasters and keep their operations going as they continue their essential work to provide Americans with the highest quality, lowest food supply in the world," said Hoeven. "Our meeting today allows producers to give feedback to FSA to help ensure the signup process goes smoothly, while making sure North Dakota farmers have access to important information about the program."


ERP Phase 1 Details
Pre-filled applications for phase 1 of the ERP will be sent to producers this month.

The information included in the application is based on existing crop insurance data in order to help streamline the process for producers.
Producers will receive applications for each year in which an eligible loss occurred. Eligible disasters include droughts, hurricanes, wildfires, floods and other qualifying disasters in calendar years 2020 and 2021.
For drought, ERP assistance is available for counties rated by the U.S. Drought Monitor as having a drought intensity of D2 (severe drought) for eight consecutive weeks or D3 (extreme drought) and higher.

Producers need to return signed applications to their local Farm Service Agency (FSA) county offices, and may submit either in person or by fax or e-mail.
ERP phase 1 assistance will begin going out to producers in June and will be calculated using an ERP factor based on the level of insurance coverage purchased by the producer.

The U.S. Department of Agriculture (USDA) estimates North Dakota producers will receive approximately $915 million from phase 1 of ERP.

Details will be released later this summer for ERP phase 2, which will compensate producers not paid under the first phase for their eligible losses.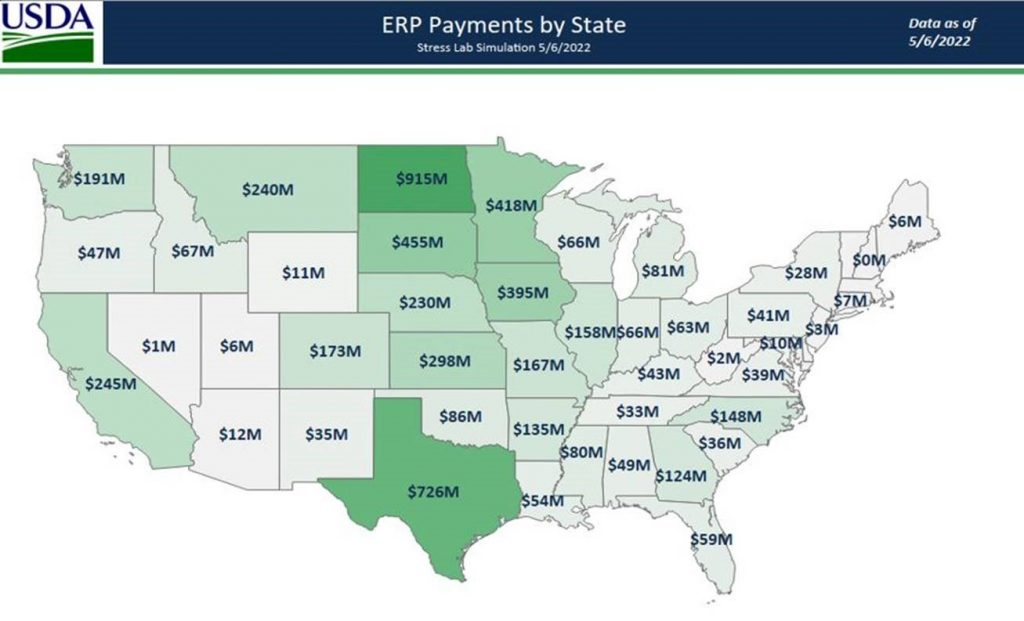 Securing Livestock & Row Crop Disaster Aid
Last September, Hoeven worked as the lead Republican on the Senate Agriculture Appropriations Committee to provide $10 billion in agriculture disaster assistance, which includes $750 million for livestock producers and $9.25 billion to aid row crop producers who suffered losses due to droughts, hurricanes, wildfires, floods and other qualifying disasters in calendar years 2020 and 2021.
USDA began sending phase-one Emergency Livestock Relief Program (ELRP) assistance to ranchers last month, with payments set at 75% of producers' 2021 Livestock Forage Program (LFP) payment. Phase two will begin later this year.
Producers should contact their FSA county office or visit farmers.gov for more information.