Miss Beka Sue Proud of Her Roots
There are not a lot of ties between Sparta, Kentucky and Minot, North Dakota, but one in particular will bring award winning bourbon to the Magic City for the Straight Up and Toasted event on Saturday.
Beka Sue (Bolton) Neeley, and her husband Royce Neeley will travel back to Beka's hometown to be the hosts of the event to be held at The Spot in downtown Minot.
"I love being from Minot. I enjoyed growing up in a small but growing community with great people around and the best family a girl could ask for" says Beka "craft bourbon distilleries are similar to a small town with it being so close knit and everyone always willing to help."
Beka Neeley graduated from Our Redeemer's Christian School and quickly found her way to the oil fields of western North Dakota. She was a field executive for one of the companies doing business in the Bakken. Her path in life would take a much different direction when she would be invited to be a contributor on The Bourbon Daily podcast. She had been a regular listener of the podcast, but now was her chance to be one of the hosts.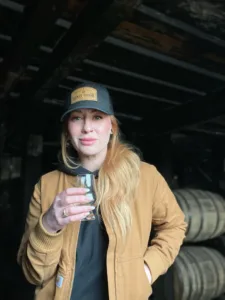 As fate would have it, one of the regular listeners was master distiller Royce Neeley. Yes, of the Neeley Family Distillery. Royce and Beka would meet in person at a bourbon convention, and it was certainly true love…for each other and for their common connection, bourbon.
Royce and Beka would get married in Las Vegas, right at the height of COVID. Beka would move to Sparta, but their bourbon exploits would take a back seat to the production of hand sanitizer to meet the growing demand in the United States.
Soon, COVID would pass and the Sparta, Kentucky distillery would go back online producing bourbon. Not just any bourbon, but award winning bourbon. Beka Sue was still busy doing podcasts, but now she would take on a new and more challenging role. She would have to taste bourbon to determine which barrel would be entered into competition, the most famous being the San Francisco World Spirits Competition.
The San Francisco World Spirits Competition was founded in 2001 by Anthony Dias Blue as an off-shoot of the San Francisco International Wine Competition. It assesses hundreds of entrants annually (6,000 in 2023 from 63 countries) with tastings involving panels of expert judges selected each year from the spirits industry including mixologists, spirits buyers, and media from across the United States. Producers must submit their product for the competition and pay a fee ($475 for 2023) for its evaluation. Not all entries are given awards (those not judged of sufficient quality are not given an award) but most receive a bronze, silver, or gold award from the tasting panel. The fact that most entrants receive an award likely involves some degree of self-selection, as the spirits producers choose whether to enter each of their brands in the competition and pay to receive a rating. Those entrants that are given a unanimous gold medal by the panel are given the distinction of a "double-gold" medal. Additionally, a "best in show" designation is awarded in each main category of spirits.
According to Beka "out of 6000 entries this year at San Francisco, they only awarded 500 double golds. Neeley Distillery received 2 double-golds for their Neeley Family brand. With our other brand, Hidden Barn, we got two double golds. One for Hidden Barn Batch 5 and one for Hidden Barn Madeira Finish. So out of 500 double golds awarded, 4 went to us." (The Neeley Family Distillery). "And to be a bit more specific, there were only 81 double golds awarded this year and 4 of them went to our brands" says Beka.
And the awards don't stop there. Absinthe is a category that has traditionally been dominated by European Distilleries. Absinthe is commonly referred to in historical literature as la fée verte "the green fairy" This is the first Absinthe, named in honor of Kentucky's own Hunter S. Thompson, to be distilled from The Neeley Family Distillery and is the only North American Absinthe producer to ever win a Double Gold at the 2021 San Francisco World Spirits Competition and only the second Double Gold they have ever awarded for an Absinthe since it was made legal again in 2007 (the other double gold was from a French Distillery in 2008). Not to be outdone, The Neeley Family Distillery was recently awarded yet another Double Gold in 2021 – This time from the Finger Lakes International Wine and Spirits competition.
This Absinthe will also soon be the only Absinthe in North America that will be made on an original late 1800's pre-ban French Still.
Straight Up and Toasted tickets are still available online at downtownminot.com, at The Spot, Margie's, Pipe Dreams and Gourmet Chef. Tickets will also be sold at the door. Doors open at 5:30 PM at The Spot in downtown Minot.