Setting Up Christmas in the Park 
MINOT – Christmas season is ready to kick with Minot Sertoma Club's Christmas in the Park, with funds going to charity.
Dave Gowan, club member of the non-profit Sertoma and organizer of Christmas in the Park, said the park will be open Black Friday, November 25 through New Year's Eve, every night from 5:30 p.m. to 10:30 p.m.
Each car that drives through is charged five dollars, and Gowan says candy canes will be provided for everyone in the car until they run out.
Christmas in the Park, which has been going on for over 25 years, consists of displays from local businesses who pay for their own displays, and an extra fee of $400 per year.
"Every display we build on our own," said Gowan. "We have 60 displays out there. There's probably 50 displays from the original that are heavier. All of them since then, we built all of them. We design, light them, all that animated stuff out there."
Gowan said Sertoma has a thousand feet of wire rolled up for the lighting. Most of the building storage of the displays takes place in a garage at Oak Park.
"Our job is to make them light enough so they're nice to put up," said Gowan. "Low maintenance. We use all LED lights, so the lights don't break. The old style breaks easily. These don't. You just learn what to do."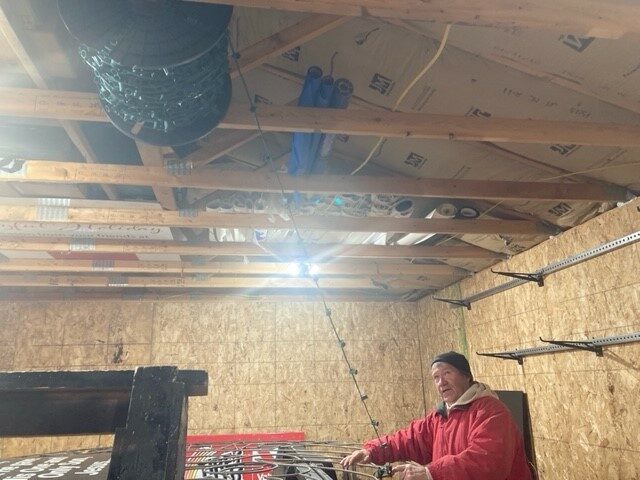 The $400, which is above the cost of the display, is donated to non-profits.
"We don't have expenses out of any of that," said Gowan. "We built this shed to store all the displays in these two units here. We save and use them every year."
Gowan said last year Sertoma cleared $60,000, and is by far its biggest fundraiser.
"There's a grant process for the donations," said Mark Larson, club member. "You fill out an application for money, and people come to us for funds, and we donate it out."
"We donate it to kids programs, speech and hearing," Gowan explained.
Gowan said last year Sertoma gave out eight $1,000 speech and hearing scholarships.
"It's all good for the community, and yet we profit to give back to the community," said Gowan.
Gowan also extended his thanks for the Minot Park District, which provides the location and the electricity.
"The Minot Park District thinks this is a good thing to do," said Gowan.
Gowan said he and other club members started working on the displays on November 1 for about three hours a day during the week, for two weeks.
Sertoma club members, of which there are around 70, fill in shifts at the booth where cars drive in. Gowan said almost all the shifts are already filled.
"They want to do that because it's such a good fundraiser," said Gowan.

More information can be found on Sertoma's Facebook page.