Rosemaling at the Hostfest
PIX—–hostfest woman with rosemaling
Cutline***Teresa Thompson, Cloquet, Minnesota, with both finished and unfinished Telemark Rosemaling at the 2022 Norsk Hostfest. (Photo: Lydia Hoverson/The Dakotan)***
MINOT – With so many ways to paint, one woman at the 2022 Norsk Hostfest makes use painting to honor her Norwegian heritage.
Teresa Thompson, Cloquet, Minnesota, presented her business, Rosemaling by Teresa, at the Hostfest to sell her art with those passing by, preferring the Telemark style of Rosemaling.
"It's from the Telemark area of Norway," said Thompson. "Every little county has their own style. I try to stay traditional. I try not to take too many styles and mesh them into one."
According to Thompson, wood was meant for Rosemaling and Rosemaling for wood. With many months of complete darkness in certain parts of Norway, painting was a good way for Norwegians to brighten their days.
"Doors were covered in homes in Norway," Thompson explained. "Ceilings, cabinets, they just would paint to liven up those long dark months. It was mainly the men in Norway that did the painting."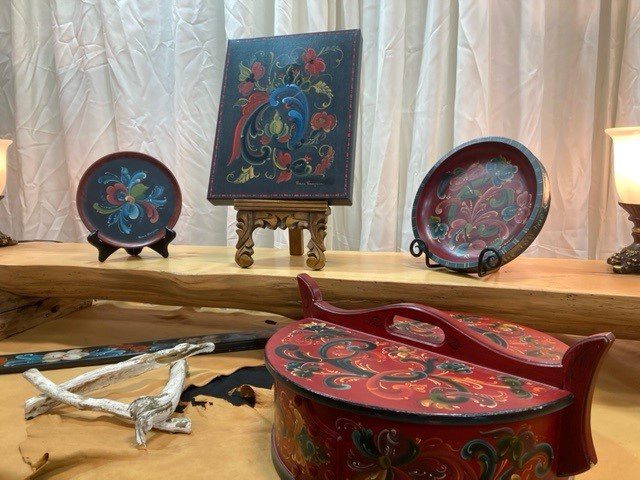 This being her 22nd year at the Hostfest, Thompson explained the process of Telemark Rosemaling. 
"You start with the base paint, the color of your choice," Thompson explained. "Normally using nature's colors. Then I design, again using earth's colors. When it's dry, it should be sealed with something."
With all her rosemaling done free hand, Thomson only uses a C-stroke or an S-stroke.
"Two strokes, and always with two hands," said Thompson. "It's just a matter of building, like watching a garden grow."
Thompson said she goes into people's homes to paint their cabinets for them, as well as giving classes on Rosemaling in Minnesota, but the Hostfest is her biggest event of the year.
"It was very strange to have two years off, but I'm just happy to be back, and I think it's a rebuilding year to keep the show going," said Thompson. "I'm missing the Copenhagen University, where I would do an afternoon class on Rosemaling. I'm happiest with a paint brush."