Minot State Empower Campaign
MINOT – Minot State University has announced over $38 million has been raised for a $50 million campaign.
At a president's luncheon Thursday, where donors and other MSU affiliates were present, Vice President of Advancement Rick Hedberg announced the public phase of its $50 million Empower Capital Campaign, where $38,446,659 has been raised so far.
"The Empower Capital Campaign is a comprehensive campaign that encompasses all fundraising on the MSU campus," Hedberg explained. "Planning for this campaign started years ago, aligned with our strategic plan in empowering generations. Our sole purpose is to empower students attending Minot State in the next decade."
Hedberg said the campaign was launched in the summer of 2019 and will continue until June of 2024, meaning all gifts to MSU between those times will be considered part of the campaign.
The five pillars of the campaign include scholarships of which MSU has secured $15 million with a goal of $18 million, academic programs now at $9.7 million with a goal of $12 million, university facilities at $1.6 million with a goal of $10 million, athletics at $4 million with a goal of $8 million, and MSU's vision fund at $1.5 million with a goal of $2 million.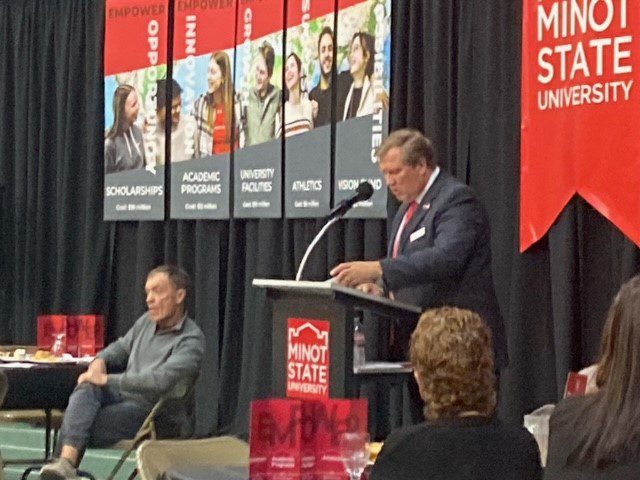 "$38.4 million is an incredible number, and it speaks volumes about the generosity of this community, this region, the alumni, the supporters and the friends of Minot State and their belief in our university, our mission, and our students, faculty, and staff," said Dr. Steven Shirley, MSU president.
Shirley said though MSU has come far with this campaign, there is still more to go, saying it may be more challenging with inflation and demographic problems such as fewer high school graduates, higher competition for students, and a higher expectation for top notch technology and facilities.
"The good news is all of these challenges can be overcome, and we can continue ensuring MSU remains on the path we have been on over the last century," said Shirley.