Rodeo in Watford City
WATFORD CITY--North Dakota Rodeo Association competition is fierce, yet the comradery and family are as genuine as the sunsets across the North Dakota plains. Watford City was home to the top contestants, their families, and fans this past weekend, Sept. 23-24, crowning state champions in each rodeo event.
Young guns and veteran competitors hit the rodeo trail, driving thousands of miles throughout the spring and summer across the state, enjoying fuel station snacks as 'meals' in the seat of a pickup truck, far past sundown.
Most veterans competing in the NDRA are coordinating demanding work, family, and life schedules all for their chance at preserving the western way of life and passion in their hearts for the sport they most adore, rodeo. The association offers the young guns an opportunity to advance their skills and prepare for their future, whatever that may hold. The common denominators amongst all in this association is the characteristics of North Dakota resilience, community togetherness and a remarkable competitive drive making the NDRA an association that is flourishing.
Cole Gerhardt, high school senior at New Salem, set the stage on fire for the weekend 'raking' bareback horses on one of the end arena, to dogging' steers on the other. Solidifying his spot and winning the NDRA Men's All-Around Title as well as the state championship title in the bareback riding. Gerhardt's grandmothers and family were all there supporting him along with the packed crowd from all over the state.
Gerhardt's partner and competitor in riding broncs, Carson Hildre, a high school sophomore from Velva, was nipping at his heals the entire season. The friendship gives true meaning to the saying, 'iron sharpens iron'. Hildre rode to a reserve state championship bareback riding title at the finals. The two cowboys look forward to their future representing North Dakota across the country in rodeos near and far.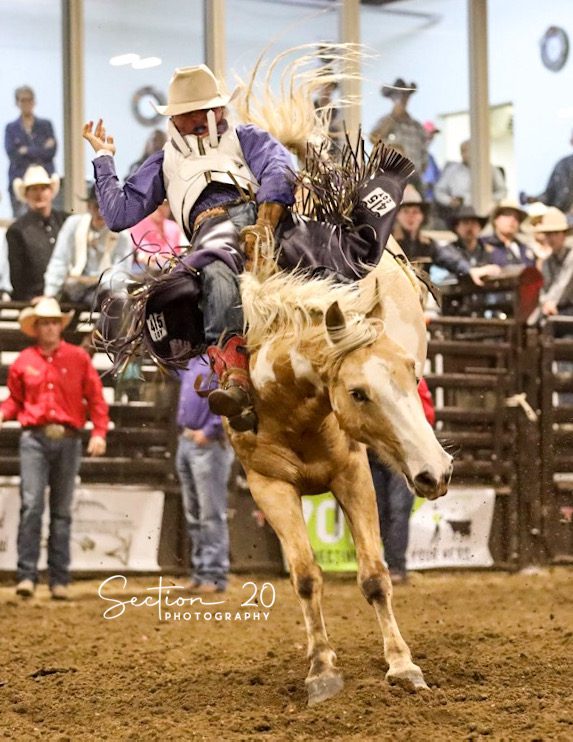 Jayce Doan of Hazelton cinched the year end steer wrestling title in a tight race amongst fellow North Dakota champion bull dogger Scott Kleemann, Killdeer. It all came down to the final round when Doan stopped the clock with a run of 4.3 seconds. Doan won the finals average with 8.1 seconds on two. 
"Rodeo is alive and well in North Dakota," explained Doan. "The NDRA rodeos we have where I'm from in southern Burleigh and Emmons Counties are Wing and Strasburg. They do such a great job in producing and that's apparent in the numerous "Rodeo of the Year" award both clubs have received. It's a staple for the towns and they get everyone to support and come out and enjoy the tradition of rodeo."
Doan was emotional after learning that he won the year end title in steer wrestling.
"My horse gave me his heart all year long and it paid off," said Doan. "There haven't been many state steer wrestling champions from the east side of the river or from my area, so it made me extremely honored. I always enjoy seeing friends, family, neighbors, our summer crew from the ranch come and watch the rodeos; I'm truly appreciative of their support."
Scott Hoovestol, NDRA tie down roper from Almont, is part of the unique bunch of veteran calf ropers that talk to each other before, during and after competition.
"We all need each other to perform at our best and that makes us push each other. Our NDRA tie down ropers feed off this and that's the beauty of it," explained Hoovestol. "You'll see a fellow competitor stepping into help another roper in the box or help with his horse right before his own run. At the end of the day, this unity doesn't just happen everywhere. I've been competing for a long time, and this is probably the best and most positive group of guys I've ever had the pleasure to compete with."
Eva Hepper, Watford City, committee member of McKenzie County Cowboys Association, explained that the best part of their rodeo and its committee is that everyone just knows their job.
"We love having this rodeo, love having the great cowboys and cowgirls of ND compete. Our association has done this for nearly thirty years, so we kind of got it down. It's easier to work hard when you know it's appreciated and that's the message we get from contestants, the finals rodeo is very appreciated," commented Hepper.
Taking home, the Woman's All-Around Championship was Dawn Carson of Grassy Butte. Her team of home raised, and home trained horses, Flo, Loot and Bee are all related. Carson won this title twenty years ago and has since been busy raising her two boys, Cannin and Cashin, alongside her husband, Ross, who sealed another win as the Reserve Champion Team Roping Heeler at the finals.
The Carson's are a staple to the rodeo, roping and horse industry across the region. Their devotion and love of the game and western heritage lives on through themselves, and their boys. The young Carson team won the Junior High National Reserve Champion Team roping title-- roping together, traveling together, and making the word, 'family' a vital component to their name.
Brandi Guttormson White, Hazen, won the state championship in the ladies' breakaway, making it her eighth state title in breakaway roping.
"I just bought Frosty about a month and a half ago from John Hoven of McLaughlin, SD. It's just been a fit," said Guttormson.
When White isn't roping, she works at Coal Creek, south of Beulah and gives breakaway roping lessons to youth across the Dakota's.
A unique event that brought the crowd to their feet was the 'Wild Pony Ride'. Younger cowboys made up of a team that involved an anchor, mugger, saddler, and rider. The team that could get their 'very green' horse saddled and rode across the finish line took home the championship. Three minutes and 46 seconds of thrilling action and grit took place on the arena floor Saturday night. The team of Chance and Chase Kling of Belfield and Clancy Boltz, Grassy Butte, showed 'Cowboy Town' what cowboys are in true fashion.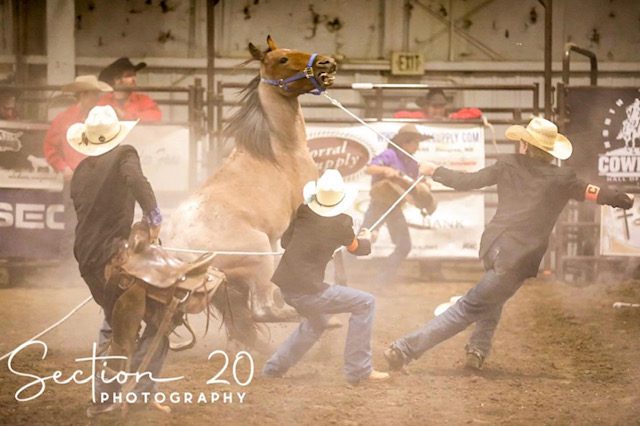 Chuck Chrisman of Adams County is in his 17th season of being a judge for the NDRA.
"I've judged across the country from 4-H rodeos to high school rodeos to the Professional ranks and the NDRA is just great thing to be a part of. To keep the western life and tradition alive through rodeo and being a part of it, sure keeps me happy," stated the cowboy.
At 70 years young, Chrisman only foresees good things coming to the NDRA and the rodeo industry. Chrisman was a former bull rider and tie down roper in his competitive years, raised a family and still ranches on the home place he was born in Adams County.
"I keep judging because the people here are the greatest," added Chrisman with a smile.
NDRA State Champions and Reserve Champions
Bareback Riding Champion: Cole Gerhardt, Mandan Reserve: Carson Hildre, Velva
Tie Down Roping Champion: Jon Peek, Bismarck Reserve: Trey Young, Dupree, South Dakota
Ladies Breakaway Champion: Brandi White, Hazen Reserve: Jessica Magilke, Solen
Saddle Bronc Riding Champion: Kelin Keplin, St. John Reserve: Colter Martin, Beulah
Steer Wrestling Champion: Jayce Doan, Hazelton Reserve: Parker Sandstrom, Ray
Team Roping Champions: Tucker Dale, Ryder and Jesse Fredrickson, Upham Reserve: Turner Harris, Killdeer and Ross Carson, Grassy Butte
Barrel Racing Champion: Emmy Dockter, Denhoff Reserve: Dawn Carson, Grassy Butte
Senior Men's Breakaway: JB Lord, Menoken Reserve: Don Ell, Williston
Bull Riding Champion: Brody Nelson, Minot Reserve: John Jacobs, Alaxandria, South Dakota
Men's All-Around Champion: Cole Gerhardt, Mandan Reserve: JB Lord, Menoken
Ladies' All-Around Champion: Dawn Carson, Grassy Butte Reserve: Kiarra Reiss, Dickinson
Girls' Rookie of the Year: Faith Heim, Bismarck
Boys' Rookie of the Year: Weston Lapierre, Killdeer