Making a Difference
MINOT – Animals can be hard to work with, but Souris Valley Animal Shelter seems to have found a way to help several animals in the Minot area.
SVAS's executive director Shelbi Waters, from Enid, Oklahoma, said when she moved to Minot near the end of 2018 and started working for SVAS, she wanted to transform the shelter into a completely fear-free, clean, and safe animal shelter for both the animals inside and the people coming in.
When Waters moved to Minot, she said the building was closed and the office was in a small, temporary shelter with no air conditioning while the current shelter was being renovated.
When COVID-19 caused all the staff at the shelter to be remote, they were able to develop new software and technology that made it easier to be remote.
"We didn't have to everything by paper anymore, everything was electronic," said Waters. "It worked out beautifully. We got really really good at it."
Waters' husband, who was in the Air Force, was stationed in Minot in 2018, and Waters became the executive director of the shelter at the end of that year.
"This whole building was created in my vision, from floor to ceiling," said Waters. "My design. Ackerman Estvold brought it to life for us. I raised quite literally every single penny to build this building."
The original building was worth around $60,000, and after the renovation it is now worth $3.8 million, according to Siri Aponte, SVAS media coordinator.
Waters said after the renovation her husband had the option to move back to Oklahoma, where they are both originally from, for pilot training, and she had planned on simply leaving the shelter permanently, until the board asked her to be the remote executive director due to her experience, credentials, and donor contacts.
There are perks to being remote, says Waters, which includes being able to focus on her exact job and not be pulled into other jobs if she were living in Minot.
"It used to be the case where I was just constantly in the back doing stuff," said Waters. "There's a lot of distractions in animal shelters. I still do all the functions of an executive director. Most EDs that serve in a leadership role for a multi-million dollar organization focus on finances, data, all of this administrative work, so I've never actually been a boots on the ground executive director."
Waters has been able to present the model for the building nationally, and she says it has become the golden standard for fear-free shelters, which many shelters are copying across the nation.
The process of changing the shelter was coming up with a floor plan and attempting to get some initial donations from committed donors.
"It was a really rough start," said Waters.
Waters said she designed the building to be open space for animals to move more freely.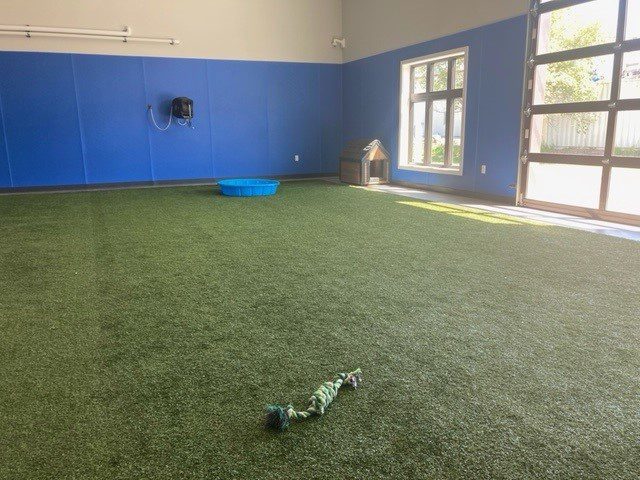 "That makes them happier, which makes them healthier, which makes it easier to adopt them," Waters explained. "We have separate air intake systems so if you're allergic to cats, and go to the dog area, you won't know. We have the first indoor dog park in North Dakota. We have a full-time medical team and a clinic."
The dogs come from several different backgrounds, but many of them come from owners who simply can't take care of them, according to Waters.
"80% of our animals do not have medical or behavioral challenges," Waters explained. "We intake 20% that do. We always help the hard-to-place animals, we just do it at a smaller scale."
Waters said the shelter is careful about how many animals it takes in so as to not overburden the system. However, that does cause a wait list for animals with medical challenges. A lot of these animals are rescued from shelters that would have otherwise euthanized them. After their rescue they are often put in the foster program.
"We have over 200 people in our foster program," said Waters.
The shelter has several teams, including the animal care team, adoption team, medical team, and operational team.
"Where we are different than all the other shelters in town, is we use animal shelter manager, which is an online software," said Waters. "I have an app that shows me everything. Their medical records, who they are, what type of enrichment they got."
The shelter can hold up to 86 animals, which includes those in the foster care program. Waters said the shelter is always looking for more foster volunteers.
"What capacity for care means, is every animal in our care can get our full attention," Waters explained. "Where the bottleneck happens is our medical team. When you have 86 animals, that's a lot of medical treatment, and we only have three people."
Waters said the shelter is looking to hire anyone, whether with medical expertise or not.
For those who are looking to buy an animal, Waters says to adopt is a better deal than to buy an animal at the pet store, and the animal for this shelter would be better cared for as well.
"A Saint Bernard at a pet store is $1,900," Waters explained. "We get at least 10 Saint Bernards a year that are pure breed, just owner surrenders or come from a neglect case. You're paying $200 at an animal shelter, and they're getting their medical done, they're vaccines, they're microchips. At a pet store, for $1,900 you don't get any of that."
These cost reductions come from grants often from private businesses, and sometimes from individuals, though no funding comes from the government, according to Waters.
Waters said the Minot Pound is the last high kill shelter in the state and is the reason North Dakota is not a no-kill state.
"A no-kill state means 90% of the animals are being saved in your state," said Waters. "Only 10% are being euthanized. Minot Pound doesn't have a good save rate. They don't allow for adoptions or for us to pull animals. If you're an animal there, hopefully your owner comes to reclaim you, because legally they only keep you for three days and you're euthanized. There is no law that SVAS can't pull animals, they just make that choice. I guess they find it inconvenient."
Waters said the moment the Minot Pound wants to become a no-kill facility, SVAS has hundreds of thousands of grant dollars it could receive to physically go in and help them.
"National organizations who really want North Dakota to be a no-kill state, have a program where I could literally go do their finances for them or I could help them download animal shelter manager," said Waters. "It would be really easy, they just don't want to do it."
Waters said if North Dakota were to become no-kill, it would be the fourth state to do so.
SVAS was created to be a fear-free facility, according to Waters.
"We are literally practicing things that don't cause the animal to be fearful," said Waters. "Our cat kennels are plastic on metal, so when you close the door, it doesn't ring in the cat's ear. When people say what do you mean you designed this floor to ceiling, I literally custom designed those doors. I went through 40 different turfs to find the best one for the dog park. I had hundreds of samples of tiles to pick out the right color. So literally thought of everything."
Waters said Fear Free is a national organization in which every employee at SVAS is certified in.
Waters isn't just doing this for the animals, as she states that animal shelter is a public safety issue to stop disease, bacteria, and parasites from spreading even to humans. She also said every other animal shelter in Minot is run out of people's homes, and she said it is unhealthy for both the animals and those housing them.
"We're always asking ourselves as we work, is this fear free? Am I practicing fear free?" said Aponte. "That's why we separate the dogs and cats, because to mix them is not fear free."
Waters said SVAS has an excellent relationship with Turtle Mountain Animal Rescue.
"They're famous and really cool," said Waters. "He runs his out of a house, but they have a shelter garage built, too."
Waters said Turtle Mountain used to struggle with disease control, but Waters offered to pay for staff to come in for free and change his shelter to be healthier for the animals.
"Now he's building his own shelter and is using our floor plans," said Waters. "It's a really great relationship. He's actually famous. We're nationally recognized, but Keith is famous for his emergency response. Financially we're bigger, but in terms of animals and popularity, Keith's got us beat."
Waters said the shelter is always looking for donations including cat food, Hills Pet Nutrition dog food, unscented cat litter, paper towels, trash bags, stamps, computer paper, and more.
"You name it, we probably need it," said Waters. The shelter always uses the same brand of dog food, because Waters said it can cause pain to the dog to switch.
"We've learned the meows of different cats, and when it sounds different, we're like, 'that doesn't sound like her,'" said Aponte.
More information on Souris Valley Animal Shelter can be found here.
Please read here for responses from the Minot Pound and other rescues.