Medora — Lindsey Miller, Flaxton, was crowned the new Miss Rodeo North Dakota on June 18.
In the heart of the Badlands and in conjunction with the ND Cowboy Hall of Fame Inductee Ceremony, the weekend was full of western heritage, history in the making and back-drop made for the movies. Miller, the 2023 'Lady in Waiting', is a recent graduate of Dickinson State University, obtaining an Associate Degree in Agricultural Business.
North Dakota's first rodeo queen came into existence in 1954. Audrey Hall-Davy was a trick rider at the Killdeer Mountain Roundup Rodeo and ranch hand by day, for her father in the Killdeer Mountains. Categories and age groups didn't exist in the contest at the time, so it was open to any cowgirl that could ride a horse well enough to win. Hall-Davy's father took her to several of these contests where she was eventually selected as the first North Dakota Rodeo Queen. Her title became the forerunner of what would ultimately become the Miss Rodeo North Dakota pageant.
The Miss Rodeo ND queen contest evolved from those days. Miss Rodeo North Dakota queens act as role models traveling the state and official spokespeople for rodeo and public relations specialists. The young women who wear the crown gain practical, work-related skills that are vital in today's world.
"The Miss Rodeo ND pageant Association is a volunteer run, non-profit organization helping young woman throughout the state, "stated MRND National Director Codi Miller.
Since 1955, the Pageant Association has sent the reigning Miss Rodeo ND to compete in the annual Miss Rodeo America pageant. Miss Rodeo ND contestants have been very successful at the national level producing several top-ten finalists, runners-up and two Miss Rodeo America's.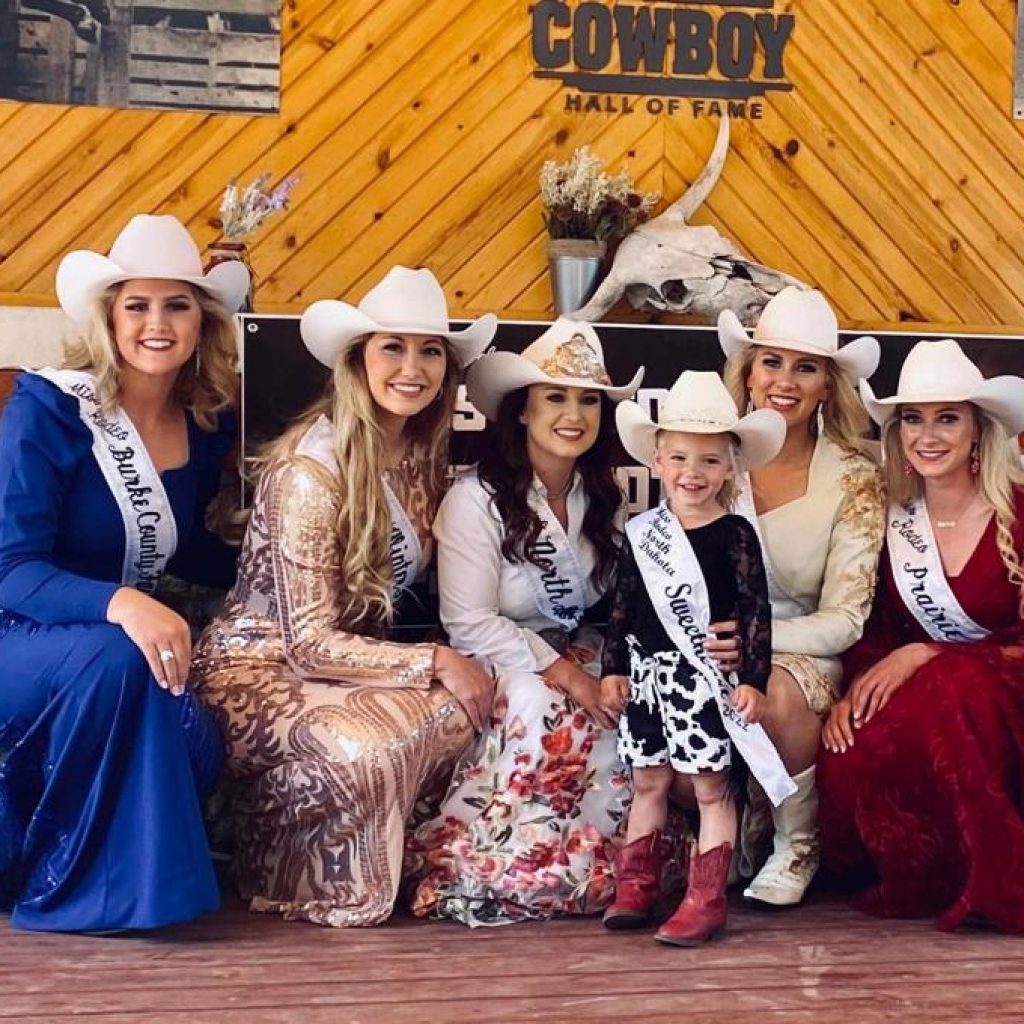 Submitted photograph
L-R — ND royalty – Lindsey Miller, Kendra Klosterman, Elise Burwell, Kit Burian, Becky Binstock, Claire Graner.
Miller intends on using her influence to encourage others to "find their light".
"Before I became a rodeo queen, I was unsure of myself and my passion. I discovered an inner confidence and passion for promoting my western heritage, so I made it a personal goal to assist others in finding their own light, as I found mine," stated Miller.
With the help of her self-published book, The Girl in Lime Green Jeans, Miller aims to share her story to reach those outside of our everyday communities in hopes of enticing them to learn about and become a part of our great western heritage.
For more information on MRND, visit: missrodeond.org