BISMARCK — The strong winds this past weekend did not slow down the National High School Rodeo Association (NHSRA) competitors.
"Being a part of the NHSRA, the world's largest rodeo association is special. I compete in the tie-down, steer wrestling & team roping. Each event is unique down to the people. In North Dakota, we have a great rodeo family that is sure to be roping a dummy and laughing all night at rodeos, regardless of what kind of ups or downs happened in the arena that day. There are so many variables in rodeo, between stock, horses-even the weather. North Dakota rodeo environment is a great place to grow socially and competitively," said stand-out North Dakota rodeo athlete and Killdeer High School junior Weston Lapierre.
From bareback riding to barrel racing, high school student athletes from across North Dakota traveled to Bismarck this past weekend for 72 hours of rodeo, including twelve events a day. Bismarck committee members hosted rodeos on May 13 and 14 (including an extra day due to the cancellation of West Fargo rodeo during the blizzard), and Sunday, May 15 was in New Salem.
There were 345 runs daily, contending through the strong winds on Friday to sunny skies Sunday. Rodeo athletes, their horses, and the rodeo stock are conditioned to perform in any environment, as most rodeos in North Dakota are outdoor venues.
"Committee members, stock contractors, volunteers, and rodeo secretaries were on point this weekend, getting everything done very well and efficiently; making up an extra rodeo and sustaining the hours wasn't something us competitors take lightly," explained All-Around Champion Cowgirl and Bowman High School sophomore Kenzie Homelvig.
North Dakota High School Rodeo is just shy of 200 members. Six rodeos are held across the state in the fall and six in the spring. Top finishers in each event compete all year for a chance to go on to the state finals, which are scheduled in Bowman, June 8-12 with the top four qualifying for the National High School Finals Rodeo in Gillette, WY.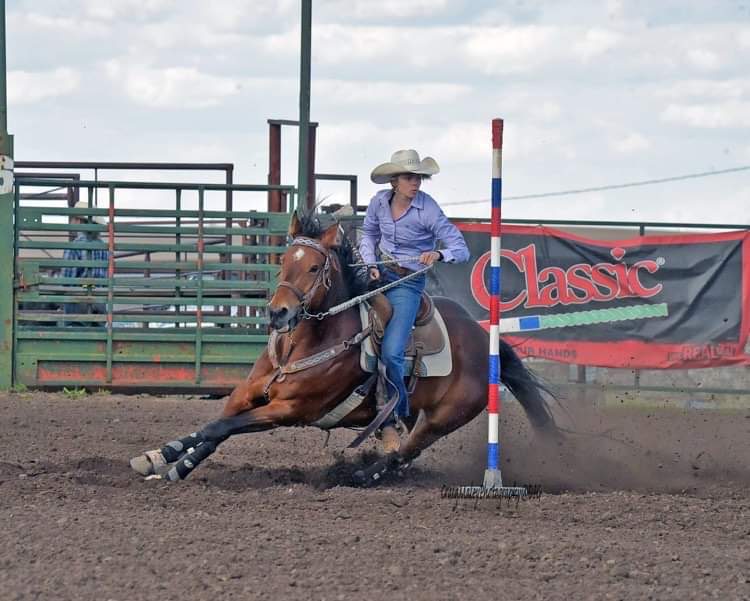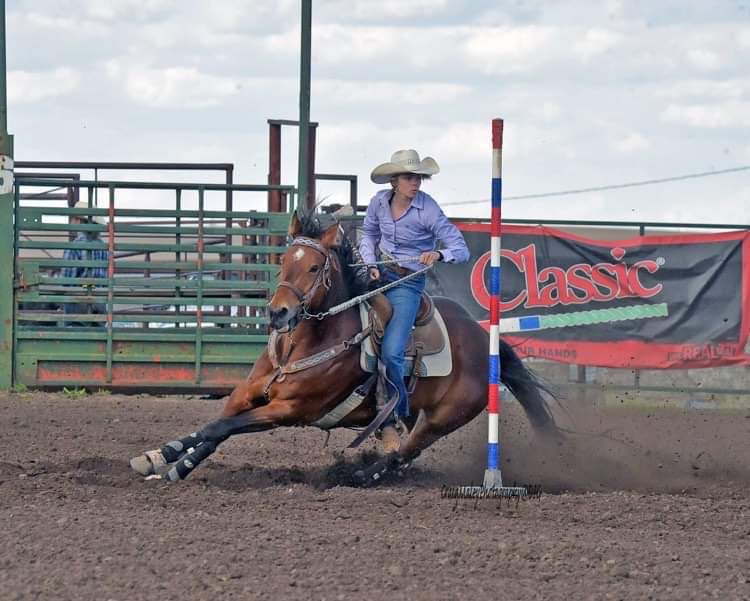 Winning the trifecta of the girls all-around this past weekend, Homelvig said, "North Dakota competitors are very tough, and it makes you strive to get better. Coming from junior high rodeos, I had elder competitors to aim for. Spring work at the ranch, moving cattle, and sorting pairs daily helped give my barrel racing and pole pending horses the stamina needed for six runs this past weekend. They put in the work as much as me. My horses are my best friends, and it's humbling and hard to wrap my head around this past weekend's success and how much I cherish rodeo in North Dakota."
The final 2022 spring rodeo will be held in Dickinson with state finals following in June.
Results (top 2) below. For further results and more information, visit ndsra.org.
West Fargo High School Rodeo 1- (Bismarck)
Bareback Riding-1 Chance Isaak, Richardton 2-Cole Gerhardt, Mandan
Barrel Racing-1 Kiarra Reiss, Dickinson 2-Kenzie Homelvig, Rhame
Boys Cow Cutting-1 Stran Sorenson, Watford City 2-Jayden Morgan, Baldwin
Breakaway Roping-1 Kiarra Reiss, Dickinson 2-Mazie Madison, Sidney
Bull Riding- 1 Treven Coonradt, Dickinson 2-Carson Hildre, Velva
Girls Cow Cutting-1 Carlee Roshau, Bismarck 2-Medora Ellingson, St. Anthony
Goat Tying-1 Maci Maher, Mclaughlin 2-Kenzie Homelvig, Rhame
Pole Bending-1 Megan Larson, Hoople 2-Kenzie Homelvig, Rhame
Saddle Bronc-1 Colter Martin, Beulah 2-Ty Brenna, Keene
Steer Wrestling-1 Weston LaPierre, Killdeer 2-Kale Hansen, Killdeer
Team Roping- 1 Trevor Sorge, Garrison/Tel Sorenson, Watford 2-Ryan Inglis, Regan/Cole Gerhardt, Mandan
Tie Down Roping-1 Hadley Erickson, Almont 2-Weston LaPierre, Killdeer
Bismarck High School Rodeo 2
Bareback Riding-1 Carson Hildre, Velva 2-Cole Gerhardt, Mandan
Barrel Racing-1 Callie Volmer, Wing 2-Kenzie Homelvig, Rhame
Boys Cow Cutting-1 Colter Martin, Beulah 2-Stran Sorenson, Watford City
Breakaway Roping-1 Alexa Varty, Tolley 2-Rayna Mortenson, Souris
Bull Riding- 1 Lathan Demontigny, Rugby 2-Treven Coonradt, Dickinson
Girls Cow Cutting-1 Carlee Roshau, Bismarck 2-Medora Ellingson, St. Anthony
Goat Tying-1 Maci Maher, Mclaughlin 2-Jayda Miller, Bowman
Pole Bending-1 Megan Larson, Hoople 2-Kenzie Homelvig, Rhame
Saddle Bronc-1 Ashton Frei, Halliday 2-Ty Brenna, Keene
Steer Wrestling-1 Trey Bohmbach, Stanley 2-Hadley Erickson, Almont
Team Roping- 1 Weston Klatt, Dickinson/Sam Andrews, Bowman 2-Danielle Fladeland, Minot/Logan Topp, Grace City
Tie Down Roping-1 Weston LaPierre, Killdeer 2-Cayden Kling, Belfield
New Salem High Scool Rodeo 3
Bareback Riding-1 Cayden Kling, Belfield 2-Cole Gerhardt, Mandan
Barrel Racing-1 Kenzie Homelvig, Rhame 2-Faith Heim, Bismarck
Boys Cow Cutting-1 Cole Gerhardt, Mandan 2-Colter Martin, Beulah
Breakaway Roping-1 Kenzie Homelvig, Rhame 2-Maci Maher, McLaughlin
Bull Riding- 1 Carson Hildre, Velva 2-Brody Nelson, Minot
Girls Cow Cutting-1 Carlee Roshau, Bismarck 2-Fallon Lacina, Sykeston
Goat Tying-1 1 Jezimay Watson, Cavalier 2-Kenzie Homelvig, Rhame
Pole Bending-1 Kenzie Homelvig, Rhame 2-Carlee Roshau, Bismarck
Saddle Bronc-1 Colter Martin, Beulah 2-Brody Froelich, Selfridge
Steer Wrestling-1 Tyler Hansen, Killdeer 2-Chance Mickelson, Foxholm
Team Roping- 1 Hayden Hutchison, Watford City/Trey Bohmbach, Stanley 2-Draw Header/Weston LaPierre, Killdeer
Tie Down Roping-1 Hadley Erickson, Almont 2-Quaid Lardy, Bowman