MINOT AFB — Local animal rescue For Belle's Sake (FBS) provided the dorm airmen some Valentine's Day love in the form of furry faces. They brought several cats and dogs from their Sawyer facility to play, cuddle, and brighten what may have otherwise been a normal day for the young men and women.
FBS is run by Master Sgt. Christian Bird and Tech. Sgt. Shelby Bird, Carla Albertson, and a team of dedicated volunteers who rescue, rehabilitate, and adopt out about 100-200 animals per year. They have rescued every kind of animal from dogs and cats to lizards, donkeys, and more, with many coming in as strays, owner surrenders, or court ordered surrenders due to neglect or abuse.
The idea for the nonprofit organization began in 2012 when a military veteran was forced to surrender his 75 animals and refused to give them to anyone but the Bird family due to their military affiliation and reputation in the community. That same year they found Belle, a dog who was suffering and dying in a field after being hit by a car in Sumter, S.C., and held her as she passed away in their home. With their years of experience in animal rescue and in honor of Belle, the Birds founded FBS to fully support the animal welfare needs of the communities they serve and save as many lives as possible.
The Birds decided to continue their rescue mission after PCSing (permanent change of station) to Minot AFB and used their unique situation to bring joy to the airmen in their charge through Pet Days.
After a Pet Day at work, the Birds noticed a visible and immediate shift in the attitudes and mental health of their airmen. Knowing that petting and playing with animals reduces stress-related hormones, anxiety and depression as well as eases loneliness, Shelby said she decided to approach the dorm manager with the idea of hosting an event to bring those benefits to the airmen who couldn't have pets.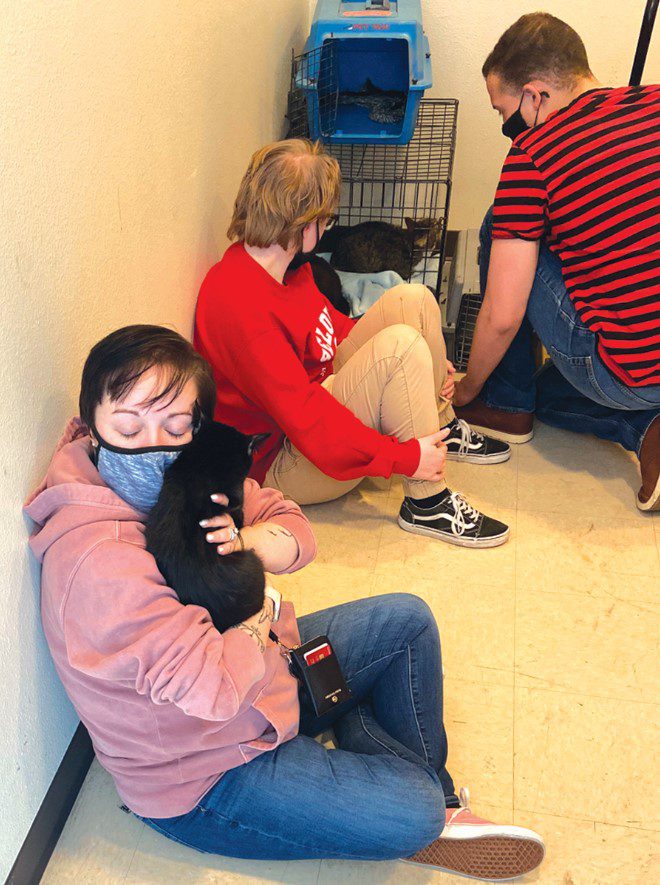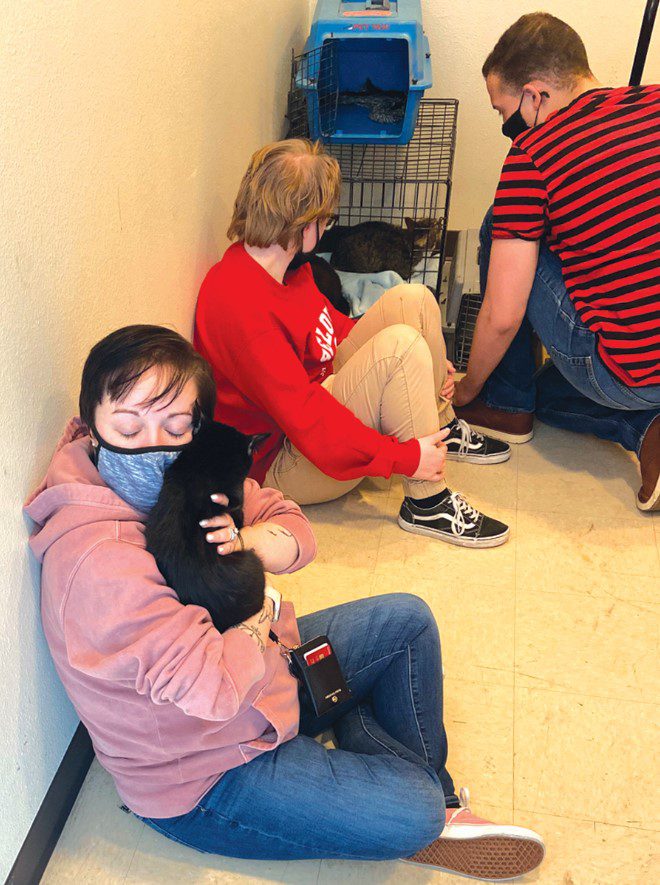 The most recent "Dorm Pawty" was coordinated by FBS and Airman 1st Class Janette Nowak, 5th Communications Squadron COMSEC Accountant and Dorm Liaison. Nowak mentioned the overwhelming support that the event garners each time it is held, and believes that dorm events are a key part in maintaining the wellbeing of Minot's single airmen.
"Being in Minot, it can be hard to get out. Everyone's in their rooms and not many of us go out so it's really nice to do those events," said Nowak. "[For Belle's Sake] likes to bring their animals to interact with people because some of them have been in the shelter for a while, so they come onto base, we meet them at the dorms, and people just come by and play with them. It's been proven that airmen like this event more than many others that we do, because who doesn't love petting animals? It always seems to brighten everybody's day."
Nowak and several volunteers set up Valentine's themed decorations, cookies, and helped to manage the animals in the foyer of Dorm 221. Because dorm airmen are not permitted to have dogs and cats in the dorms, events like this allow them to interact with pets that they may not get to see on a daily basis.  
"A lot of the airmen have their own pets at home. They create strong bonds with their puppies, their old dogs, their 20 year old cats, and a lot of people like me miss those bonds that we used to have. Animals create a different relationship with you than any other human could. People want that connection that they may not be able to have with their peers," Nowak continued.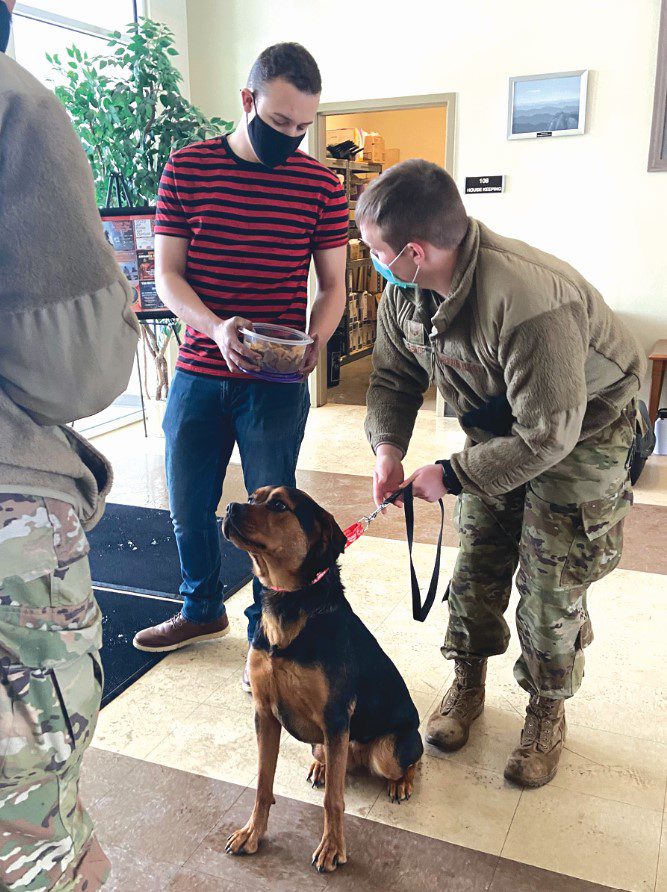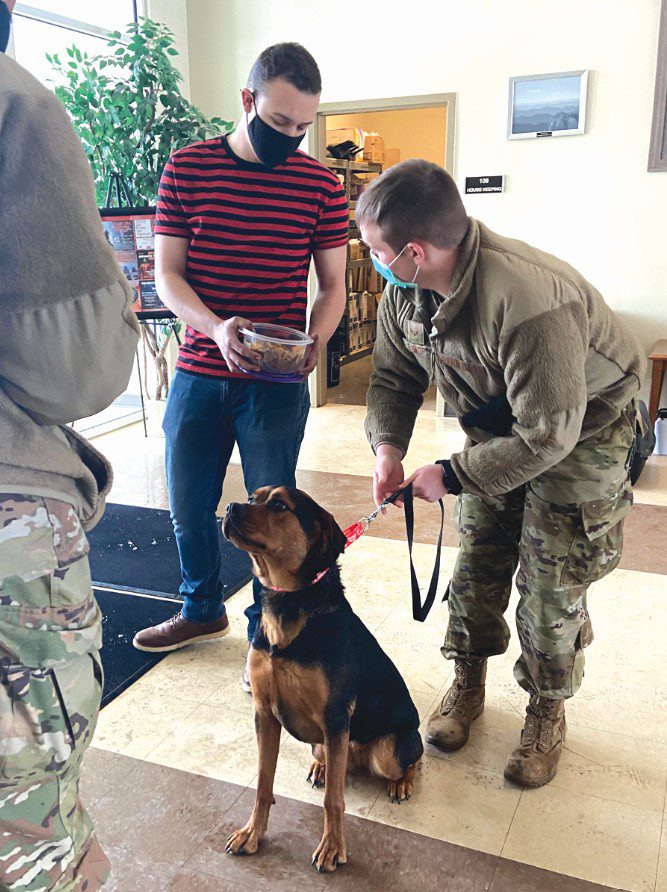 Not only are the parties beneficial to airmen but the animals involved as well. "They go back to the rescue so tired and content," said FBS. "They get individual attention and lots of extra love. It is a great time for them to socialize with new people and build their confidence as well."
In the past, they have also facilitated petting zoos and school visits for the Minot AFB community to expand outreach and educational opportunities. "It's events like this that we would love to see expanded and continued," FBS said. "The more people that can be reached about animal welfare, the less need there are for rescues like FBS."
Because the Birds are also Active Duty, their volunteer team plays a vital role in continuing their mission. FBS is always in need of volunteers to help with their operations and outreach events. They also hold designated volunteer days and recruit individuals who are interested in volunteering from home to perform website updating, application processing, grant writing, fundraising, and more.
To learn more about the rescue and its volunteer opportunities, visit www.forbellessake.org or go to the For Belle's Sake – Rescue/Rehabilitation Facebook page.