MINOT—Minot City Council moved to approve preserving the Anne Street Bridge in a 4-3 vote on Monday, Jan. 3,. [mtg agenda]
In the previous council meeting dealing with the flood control project, Alderman Tom Ross stated that he needed "to see something significant" that would convince him to support keeping the bridge. After residents shared their opinions about the bridge, he changed his decision in favor of preserving it. [link here]
Several Minot residents testified before the council; the majority pleading for the preservation of the bridge. Some considered it to be a historical structure, others felt the pathway itself is historic, and some simply expressed how they felt the pedestrian access point into downtown was of vital importance.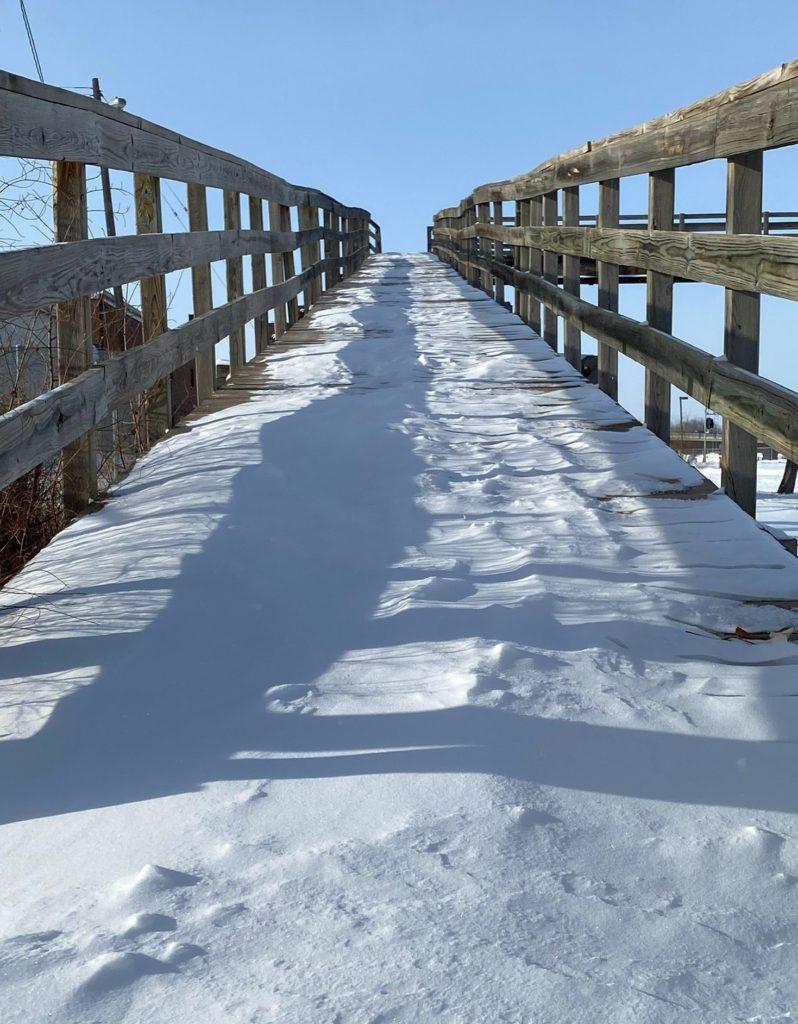 "We believe the bridge is a vital connection point for the community, a service to our business members… residents… and to students," explained Interim Director Josh Wolsky of Minot's Downtown Business & Professionals Association (DBPA).
Shannon Straight, a Minot resident in favor of saving Anne Street Bridge, reminded the council that another historic bridge in the MI-5 area of the flood control project will be destroyed. "We are losing one bridge already," said Straight. "Let's not lose them both."
Administrator Ryan Ackerman for the Souris River Joint Board (SRJB) stated, "We can't, from the SRJB perspective, say with certainty that a new bridge will be permitted by BNSF." He appreciated the ideas and support for the Anne Street Bridge;, however, he expressed that building a new bridge would be "a little beyond the scope of flood control."
As explained in a previous article by The Dakotan, BNSF and the city of Minot are in a license agreement regarding the current Anne Street Bridge. If any modifications were to be made to the bridge by the city of Minot, then the agreement would be broken and a new one would need to be forged.
Mayor Shaun Sipma made it clear that BNSF was "very interested in not having a bridge there." Alderman Stephan Podrygula asked for something in writing by an authoritative figure within BNSF. However, Sipma was adamant that BNSF was not willing to negotiate a new bridge.
With the motion approved to preserve the Anne Street Bridge (see agenda item 9.1 Recommended Action 3B.2/3), the SRJB will aim to reconstruct the south portion of the bridge and the city will commit to funding approximately $1.6 million to complete required repairs throughout the rest of the bridge.
"This is a first step; there is more work to be done. We hope to see the engineers in the direction the council provided tonight, that leads to a solution that works for the community, the city, the railroad, and for everybody," said Wolsky after the city council meeting.
When asked what it was like putting together a compelling presentation within two weeks of the prior meeting, Wolsky responded, "It has been a lot of work putting that together; organizing thoughts to put together a coherent argument that makes sense…. And that is the beauty of having an organization like the Downtown Association that is organized and resourced, to be able to do that when the key moment arrives."
Now that enough council members have been convinced to preserve Anne Street Bridge, it will be interesting to see how BNSF responds to this decision.