Annual event attracts thousands
DEVILS LAKE — If you drill them, they will come. My oh my, did they ever — thousands of them. 
About 5,500 holes were drilled through the ice on 6-Mile Bay in advance of several thousand ice anglers eager to try their luck at enticing northern pike, walleye, or perch to grab their presentation.
The event was the 38th Annual Devils Lake Volunteer Fire Department Ice Fishing Tournament. 
"We're happy with the turnout. We were hoping for a big one," said Corey Meyer, Devils Lake Volunteer Fire Department (DLVFD).  
And they got it. The specially plowed and spacious parking area filled rapidly, and early, for the 1-3:30 p.m. event. Ice fishermen poured onto the ice to pick a spot to try their luck, have some fun, and enjoy a wonderful time outdoors.
Among the throng was Skip and Jared Bertsch of Grand Forks.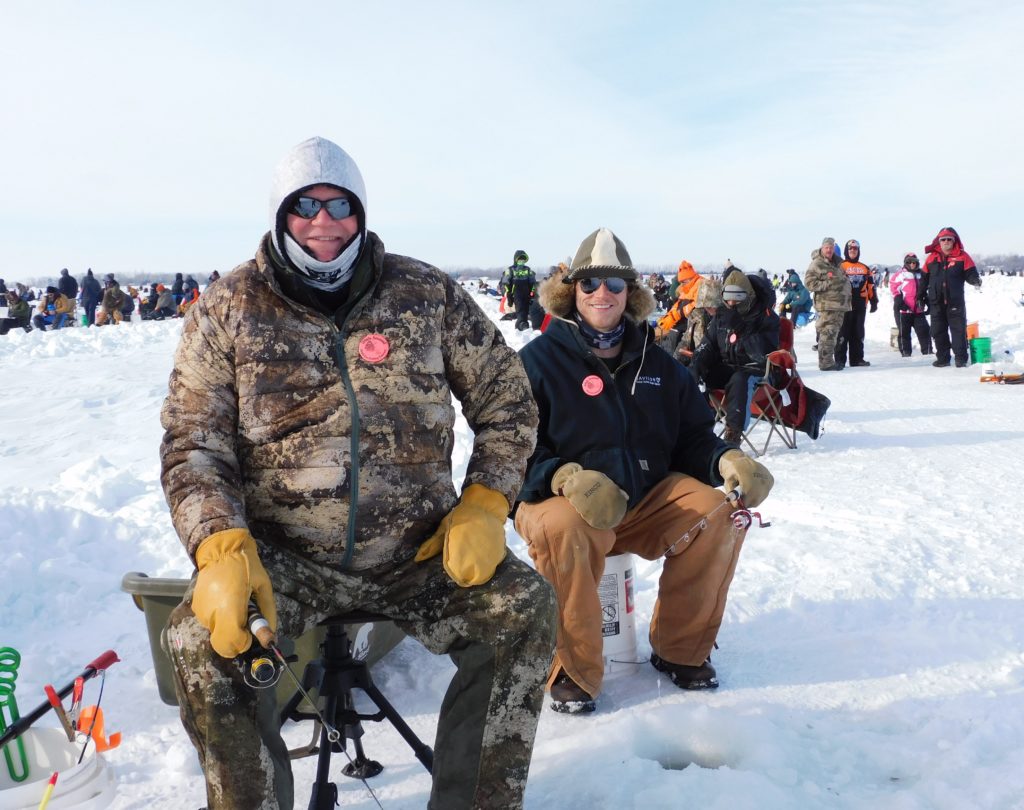 "I've been doing it since it started. In 28 years I've only caught two fish," laughed Skip Bertsch. "But it's fun."
"It is fun," added Jared Bertsch. "I'm his son, and this is my first time here. It's good to see everyone out here." 
The tournament attracts people for several reasons, from its immense size to the impressive list of prizes given away, for fish caught and drawings for over $325,000 worth of prizes.
"We want them to have a good time, catch some fish, and have a memorable experience," said Meyer. "They come from everywhere, different states and all over the place."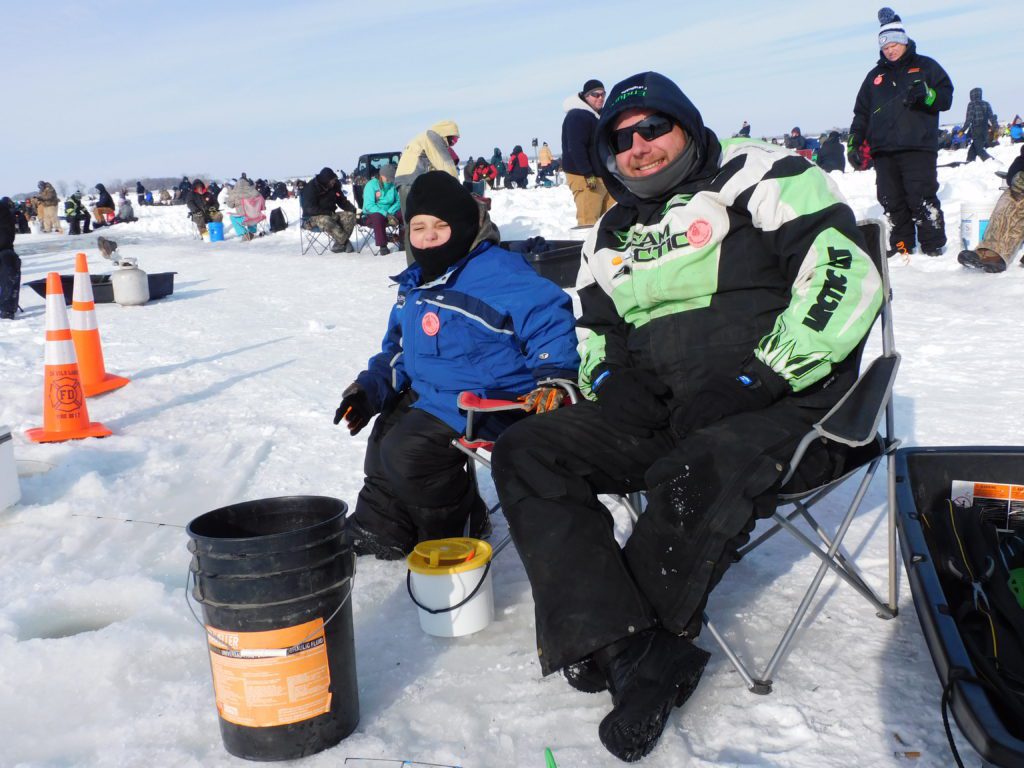 Even South Africa. It's true.
Sitting in a folding chair on the ice, seated next to his son, Lukas, and slowly jigging an ice fishing rod, was Ivan Van Niekerk.
"I'm originally from South Africa. I immigrated here in 2012," said Van Niekerk. "It's a big change. Our winters get down to the low 50's, not this, but I've gotten used to it over the years. I enjoy it."
Van Niekerk said his South African friends on Facebook keep sending him pictures from sunny beaches and sand.
"It's the middle of summer there," laughed Van Niekerk. "We enjoy this. I've gotten used to it over the years. This is our fourth year doing this. I haven't caught a fish yet but there's always next year."
The first fish of the day was brought to the weigh station by Reed Eberle of Leeds. He hooked a walleye about 30 seconds after fishermen got the signal for fishing to begin.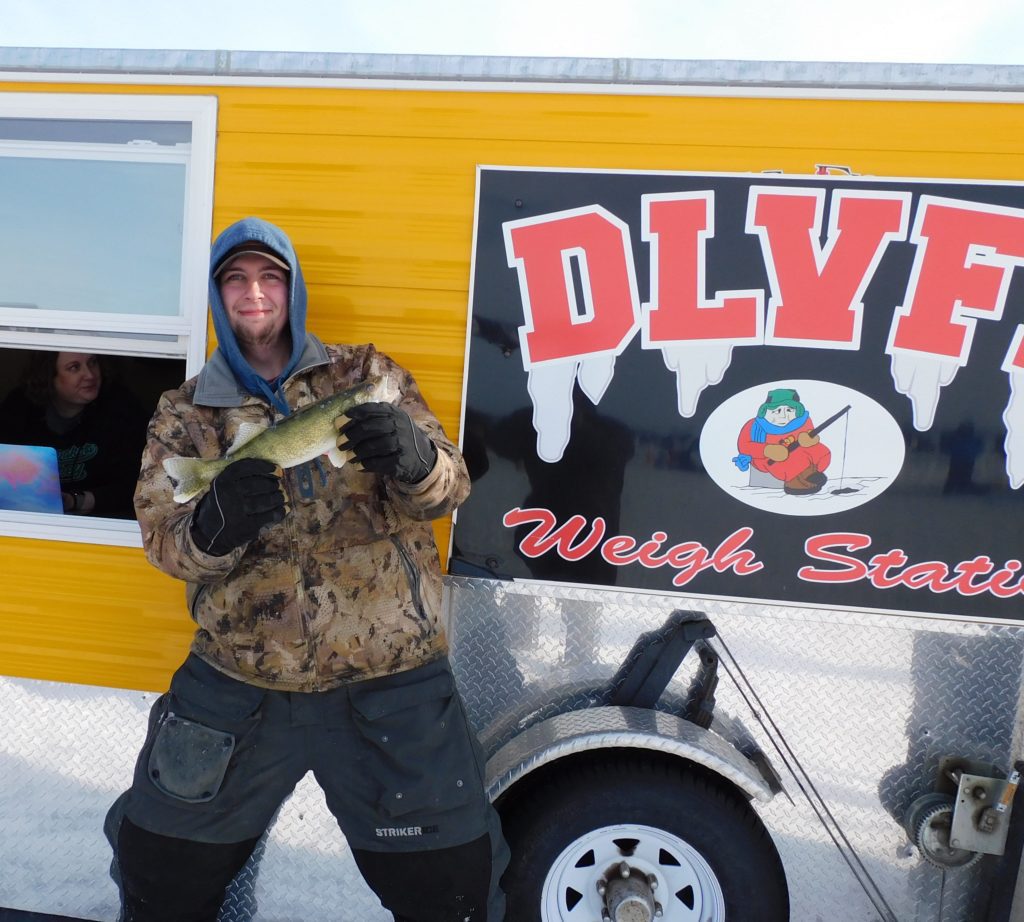 "A beautiful day. A little windy but it's okay," said Eberle after weighing his fish. "I've fished this event every time since I moved to North Dakota."
Eberle quickly returned to his fishing spot, hoping to hook another fish to put on the entry list. While $2,000 was being awarded to the angler with the heaviest fish in the walleye, northern pike, and perch categories, other prizes were awarded randomly.
Blake Lalonde, Fargo, won a UTV for the second largest perch, 1.02 pounds. The third best walleye, 1.92 pounds caught by Shaun Hermes, Westhope, was good for a new Jeep Wrangler Sport. Kevin Dockter, West Fargo, won a hardshell fish house with the fourth best northern pike at 2.98 pounds.
The event, the largest of its kind in North Dakota, can be both fun and rewarding for participants, but it serves an important purpose too. It is a valuable fundraiser for the DLVFD. 


"We use it to save money for taxpayers and buy equipment. We've bought several fire trucks because of this and all kinds of new equipment."Corey Meyer, DLVFD


"We use it to save money for taxpayers and buy equipment. We've bought several fire trucks because of this and all kinds of new equipment," explained Meyer. "It relieves the burden on the taxpayer, so it's a win-win for everybody."
The DLVFD consists of six full-time firefighters and about 20 volunteers. It serves a growing community of about 7,500 residents.