Kenmare Closet celebrates one year of growth and success
KENMARE—One business truly can make a difference in a community.
Until just a year ago, if you lived in Kenmare or much of the surrounding area, you might have to drive for 45-90 minutes in order to find a secondhand store to pick up a hand-me-down winter coat for your growing child. Thanks to Kenmare Closet, that's all changed in the Kenmare area.
Kenmare Closet was conceived in the mind of Kenmare resident and mother of four Kari Emmel as she began to experience the need firsthand for her growing family. Driving all the way to Minot just to find a thrift shop for a few items seemed like a huge burden. After a conversation with Jane Kalmbach, who runs the Kenmare Food Pantry, Kenmare Closet went from dream to reality.


"She thought something like this was needed." Kari Emmel, Kenmare Closet founder


"Jane was super excited to help point me in the right direction," said Emmel. "She thought something like this was needed, but she was already maxed out at the food pantry," Emmel explained.
Emmel took on the task of organizing volunteers and acquiring space. Kenmare Closet is almost entirely run by volunteers, although they now have been able to hire one part-time employee, Shelly Berkhus, to ensure that their hours of operation are consistent from week to week.
"It was a great fit," said Berkhus. "My husband and I already donate a lot to the community, but I couldn't leave my job." When Kenmare Closet offered this job to Berkhus, she jumped at the chance.
"We started out with about 10-12 volunteers," said Emmel, "but we've had over 25 people regularly involved. It's not work," she added. "We go there to laugh and have fun and help out the community."


"This place exists because all these people help."Emmel


Emmel has not taken on this venture singlehandedly. Kenmare Closet now has an entire board. Joy Ankerbauer serves as President, with Lisa Bartlett as the secretary, handling all the paperwork. Marissa Haase deals with advertising and marketing. "This place exists because all these people help," stressed Emmel.
Missy Harris manages all the displays. Emmel said, "Missy makes sure we look nicer inside than thrift stores typically do."
As a testimony to Harris's prowess and to the hard work of the entire team, the Kenmare Association of Commerce chose Kenmare Closet as the winner of their Best Decorated Business Award for 2021.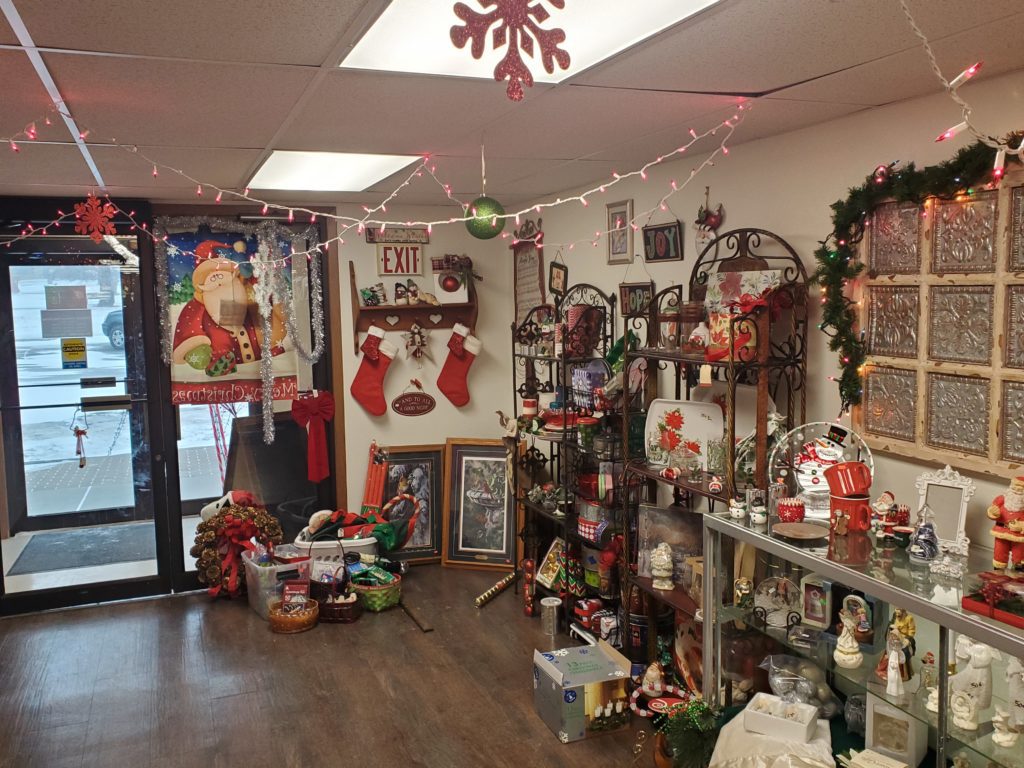 The thrift store celebrated its first anniversary at the end of November. "I think it's been well-liked by the community, and people use it," said Emmel. "It's busy when it's open, and there's even more traffic now being downstairs," she added. Kenmare Closet's original location was upstairs from their current site.
Berkhus concurs with how busy it's been. "Just in the last three weeks," said Berkhus, "I can't believe how much [inventory] has come in the door and how much has gone out the door."
Emmel sees Kenmare Closet as an opportunity to serve the needy, but also to serve the entire surrounding community. "We don't just serve one demographic," she explained. "Our heart is to serve people in need, but anyone is welcome to come in."
The invitation on their Facebook page says it all: "Whether you're looking for a place to drop off your gently used items, you're in need of clothing/household items at a low cost, or you just love thrift shopping, this is the place for you!"
Kenmare Closet runs different specials every week, depending on current inventory. This week's sale is a $4 bag sale on kids' clothes, shoes, and toys. Next week, they will offer a steep discount on all Christmas items.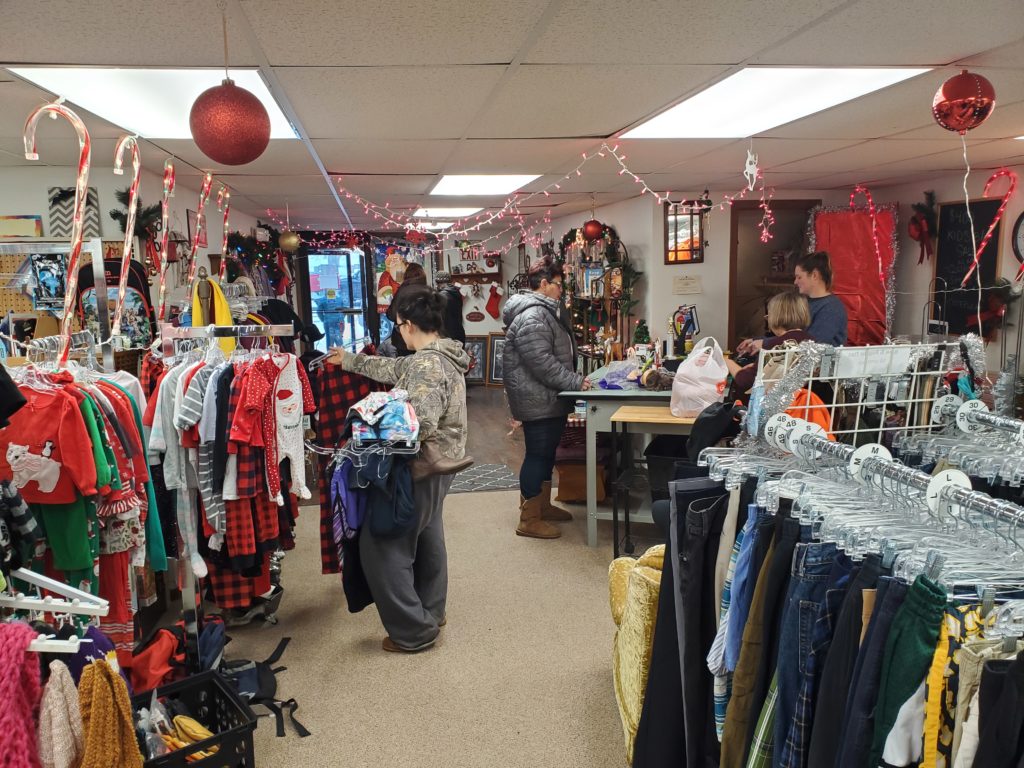 With all the success Kenmare Closet has experienced during its first year, the board has been able to give back even more to the community. Each quarter the board meets to determine what funds they have available to give. So far they've been able to contribute:

$1,000 to the Kenmare Food Pantry for their backpack program;
$1,000 to Kenmare Gift of Love, which provides gifts and meals in the community during Christmastime;
Other contributions to the local non-profit movie theater and to the historical society.

Emmel is thrilled with how Kenmare Closet has grown during its first year in existence. "It gives back to the community, it's self-sufficient, we don't struggle to pay the bills each month," she stated. "It's hugely exceeded our expectations."
Kenmare Closet is located at 11 Division St, Kenmare, on the south side of the square, and is open Tuesday through Thursday, 2:00 p.m. to 6:00 p.m. It can be found on Facebook at The Kenmare Closet.