Thousands shop local
Bismarck—Shoppers of local and North Dakota-made products broke records this past weekend at the Pride of Dakota Holiday Showcase in the Bismarck Events Center, Dec. 3-5.
Pride of Dakota Specialist Katie Huizenga said that Friday night's shopper turnout of more than 4,600 was the highest turnout of any Pride of Dakota showcase in history. The final weekend tally showed 14,400 people passed through the doors to check out the more than 200 vendors with everything from gourmet foods, crafted specialty drinks, arts, custom-made gifts and products, all originating in North Dakota.
"I think this is fantastic," said shopper, Amy Liepke. "The vendors are wonderful. Everyone is having a great time, and there are so many things to see. There are so many products to sample."
Creator and owner of Daarthe's Gourmet Bread Pudding, Debbie Deaver said, "I attend Grand Forks, Minot, Fargo, and Bismarck shows. Due to harvest season, a few others like Dickinson we can't get to. Linda Johnson from Home Sweet Home introduced me to the Pride of Dakota organization, and it has completely turned my business around. Between Pride of Dakota and the Hostfest, all of my income comes from September to December." She also noted that the products used in her recipes are locally purchased from the baked bread to the sugar. Her "Chester-award" winning bread pudding had a line of consumers and samplers that never shortened during most of the event.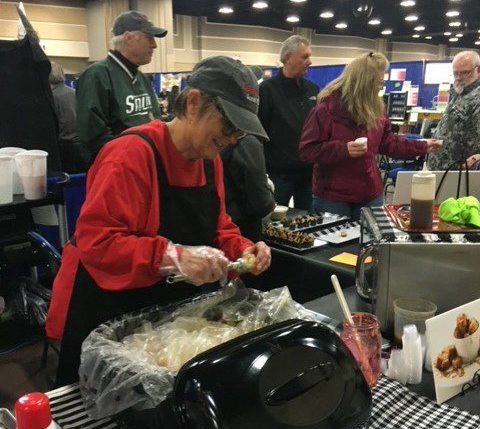 Minot artist Andy Knudson, of Plains Perspective Art Studio, summed up his thoughts, "Being a member for twelve years and doing most of those shows, Pride of Dakota has expanded my horizons and helped my business. The crowd this year has a little built-up energy and ready to get out. The numbers have been great, and consumers are showing genuine interest in art as well."
Other companies represented included Fargo's Big Deck Barbecue with their peanut butter and jealous sauce and Bismarck's Gideon's Brewing with its fan-found favorite apple pie seltzer drink. Santa even made an appearance.
The event also featured the Celebration of Trees. The Celebration of Trees was first introduced in 2001 with the intent to give back to the Bismarck-Mandan community. That program has raised more than $575,000 over the years. It also donates the decorated Christmas trees to local families in need.
The Pride of Dakota program is made up entirely of businesses that manufacture, process, or produce goods and services in the state of North Dakota. The organization's roots date back to 1985 when former Commissioner of Agriculture Kent Jones asked a small group of North Dakota businesses and the Department of Agriculture's marketing staff to create a state brand that would label products as "made in North Dakota."
With this year's turn-out, thousands are sure to be giving and receiving some of the best products North Dakota has to offer this holiday season.
info@mydakotan.com