MINOT—After 10 years the Eastwood Park community has once again come together to give the public an event they call The Eastwood Park Holiday Tour of Lights & Donation Drive.
On Sunday, Dec. 19, from 6:00 p.m. to 9:00 p.m., everyone is welcome to walk or drive through the Eastwood Park neighborhood for a view of lit-up houses and decorated yards. Guests can also warm up inside nearby churches and enjoy free baked goods, hot drinks, and entertainment.
The coordinator of the tour Jordan Pederson said she decided to partner with the Domestic Violence Crisis Center and Souris Valley Animal Shelter this year. "[These] are two organizations that are near and dear to my heart. I used to work [to help] with domestic violence in college for five years," said Pederson. "I'm [also] an animal lover."
With only two roads going in and out of the neighborhood, either end will have a place for people to donate non-perishable items, canned goods, and/or financial donations for the charities.
St. Peter the Aleut Orthodox Church, at the end of 6th street, will be offering hot dogs and other baked goods in its basement, with a jar for free-will donations. Pictures with Santa will also be available there. Across the street on 1st Avenue, Berean Baptist Church will be offering free entertainment. This includes a pianist who will be playing throughout the evening, the Our Redeemer's Handbell Choir performing at 6:00 pm, and Sunnyside students singing at 7:00 pm.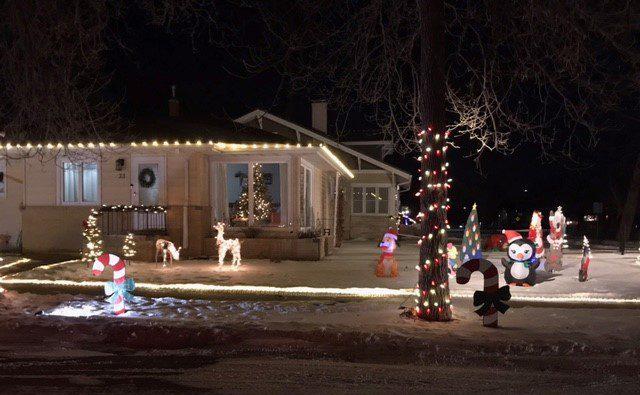 Several houses will have hot apple cider and hot chocolate to share with passersby. Parking will be available at the Roosevelt Park pool lot or on the east side of the Eastwood Park streets, but not on the avenues, to keep traffic moving smoothly.
Eastwood Park is on the National Register of Historic Places and used to be a neighborhood association. The tour of lights had been organized by the association every year starting in 1998 until the flood. Many of the houses in the neighborhood were significantly damaged by the 2011 flood, and the association dissolved.


"Now it is just a group of neighbors, all of us wanting to bring back kind of the glory days of our neighborhood and what it used to be."Jordan Pederson, coordinator of Eastwood Park Holiday Tour


"Now it is just a group of neighbors, all of us wanting to bring back kind of the glory days of our neighborhood and what it used to be," said Pederson, who has lived in Eastwood Park since childhood. "For a long time, we have missed that sense of community since the flood."
Pederson asked some of her friends there about the idea. With their encouragement she was able to get flyers to all 150 houses to see how many neighbors would join. "Once we had a good group of like 10 to 12 people, I organized a meeting, and we met, and talked in person, and I kind of just went from there."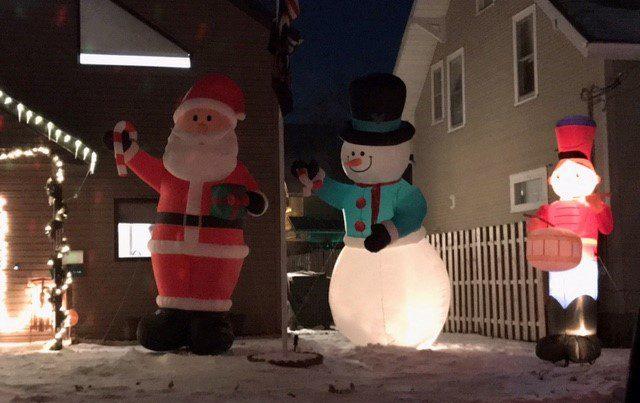 Kendra Hansen also lived in Eastwood Park as a child and recently moved back. "When I saw that Jordan wanted to start the Holiday Tour of Lights again, our whole family was real eager to get on board and get that event going again," said Hansen. "I always remember living in the neighborhood and having it so decorated. I know everyone drives through there, but it just hasn't been the same since the flood."
"I grew up with this event, and I remember how magical and awesome it was as a kid," said Pederson. "Now I have three kids of my own, and I want them to grow up and experience exactly what I got to when I was little."